A while back I shared 21 Ways to Reuse Coffee Grounds, so I thought I'd recycle (hah!) that theme for this year's Blog Action Day 2010.
If you don't know about Blog Action Day, you can learn more about it and related charities at the main site; see my past Blog Action Day posts from 2007 (the environment), 2008 (poverty), and 2009 (climate change); and also check out this video:
If you watched the video, you already know that this year's theme is water and the reasons why. But for those who didn't watch the video, from the Blog Action Day website:
Right now, almost a billion people on the planet don't have access to clean, safe drinking water. That's one in eight of us who are subject to preventable disease and even death because of something that many of us take for granted.

Access to clean water is not just a human rights issue. It's an environmental issue. An animal welfare issue. A sustainability issue. Water is a global issue, and it affects all of us.
Are you using more water than you need to? You can find out by using the handy dandy H2O Conserve Water Footprint Calculator (US residents) or the equally handy dandy Water Footprint Network Water Footprint Calculator (international).
The good news is that there are lots of really small, simple things you can do in your everyday life that could end up making a big difference in the long run.
21 Easy Ways to Conserve Water
1. Never have a dripping faucet or leaking toilet. Not only will you save money, you'll also save water.
2. Install low-flow faucets, showerheads, taps, and toilets.
3. Turn off the water while brushing your teeth, washing your face, shaving, etc.
4. Don't use the toilet as a rubbish bin — tissues, cigarette butts, etc., can be thrown away instead of flushed.
5. Take quick showers, five minutes or less.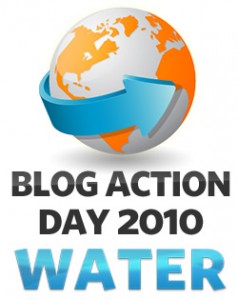 6. Put a bucket in the shower to catch water while you're waiting for it to wait up; use that water for watering plants or gardens.
7. Don't discard water until you think about how else you might use it, e.g., to water plants.
8. Wash only full loads in the washing machine and dishwasher.
9. If you drink water from the tap, fill a bottle and keep it in the fridge instead of letting the water run until it gets cold.
10. If you water your lawn, don't overwater. If you step on the grass and it springs back up, it doesn't need water yet.
11. Water deeply and use mulch to help retain water in gardens; mulch also reduces weeds.
12. Water in the early morning to prevent too much evaporation.
13. Don't let the hose run while washing your car.
14. Don't hose down driveways and sidewalks; sweep away dirt and leaves instead.
15. Insulate your hot water pipes.
16. Don't let the water run at full blast while rinsing dishes; use a separate basin if possible.
17. Scrape dishes clean of food as best as possible before putting them under water for rinsing.
18. Collect any water in gutters and use for plant or garden watering.
19. Use only the amount of water in cooking (making pasta or tea for example) that you need.
20. Avoid using the garbage disposal; compost your scraps instead or simply throw them away.
21. Practice these water saving tips even when you're away from home, including when you're traveling and staying in hotels.
There's still time to take part in Blog Action Day 2010, but of course your daily, year-round actions are what will make the biggest difference.
Have you been trying to change your water use habits? How?
14 Beans of Wisdom to "21 Easy Ways to Conserve Water: Blog Action Day 2010"
---