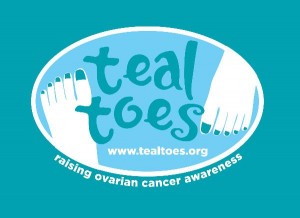 As we reach the end of September and Ovarian Cancer Awareness Month, please remember that awareness needs to happen *year round* if we hope to conquer this so-called silent killer. If you have a blog please consider posting the signs and symptoms of ovarian cancer before month's end so your readers have this important information.
And now, the final giveaway of the month offered up by Carey Fitzmaurice of Teal Toes. You may remember reading about Teal Toes here before at Bleeding Espresso, but if not, Teal Toes is an organization dedicated to raising ovarian cancer awareness run by Carey Fitzmaurice, an ovarian cancer survivor.
Carey came up with the idea to encourage people to paint their toenails teal in September, especially because:
Ribbons aren't enough.
It's easy!
It makes your toes look pretty.
Teal, the ovarian cancer awareness color, is striking enough to make people ask about it.
Carey has kindly offered up a pair of Angela Moore earrings (surely you remember Angela Moore Jewelry from our first giveaway this month) and a bottle of Diamond "Don't Teal My Heart Away" polish with the Teal Toes logo on it.
CONTEST RULES:

To enter for your chance to win the earrings or nail polish, leave a comment below telling me what you have done or will do to spread the word about ovarian cancer this month and/or help the cause. Even retweeting or reposting about the contests and information here count!

For an extra entry, you can "like" Teal Toes on Facebook and/or and follow @TealToes on Twitter, and then come back here and tell me you've done so in a separate comment. You may both "like" and follow for a total of three possible entries, but the initial comment regarding spreading ovarian cancer awareness is the mandatory entry.

All entries must be submitted by 11:59 p.m. CET Sunday, October 3, 2010; this drawing is open only to U.S addresses for shipping purposes. The winner will be chosen randomly.
Best of luck, and get those toes painted teal! Why yes, mine have been teal all summer long.
And remember you can always donate to the OCRF via my FirstGiving page!
33 Beans of Wisdom to "Angela Moore Earrings + Teal Toes Polish Giveaway for Ovarian Cancer Awareness"
---