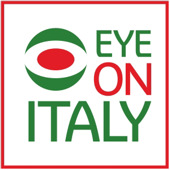 If you follow me on Twitter or Facebook, you have probably already heard about the Eye on Italy podcast (but please make sure to read through the post for updated info!). For those of you who haven't, here's your official introduction:
Eye on Italy is "[a] podcast for anyone who's loved Italy or wants to love it." Each week, Jessica Spiegel (WhyGo Italy), Sara Rosso (Ms Adventures in Italy), and I talk about current events and other interesting topics that relate to the Bel Paese.
We have been privileged to host some rather awesome guests so far, including Gelato King David Lebovitz; B&B owner and creative soul Diana Baur; and art historian, sommelier, and food expert Katie Parla. We've tackled all kinds of issues from the freedom of the press in Italy with Livia Iacolare, community coordinator and assistant producer of Italy's Current TV, to uncovering the Holy Foreskin with author David Farley.
There are already 14 podcasts available for your listening pleasure, but there's no need to feel behind! Now that we're taking a little August break like the rest of Italy, you have plenty of time to catch up on what you've been missing so far. You can subscribe on our page or directly at iTunes.
And for those of you who have been following, first thank you! Second (and this goes for everyone) keep an eye (hah!) on the Eye on Italy website for posts throughout August as we'll be sharing links to some of the news stories and blog posts that have caught our attention . . . starting today with the spotlight on Art & Culture.
Thanks again to all who have been listening, and as always, if you have feedback, comments, or even guest suggestions, please pass them along either through the website or at the following locations:
Happy listening (and reading)!
3 Beans of Wisdom to "The Eye on Italy Podcast"
---