This week's Love Thursday comes from our trusty correspondent Salena who recently did a great 3-part series on the Watts Towers by Simon Rodia over at her place, The Daily Rant. Salena saw a special theme emerge as she was taking beautiful photos of this amazing creation, though, and she was kind enough to share with us:
Love Blooms in L.A.
I had never even heard of this magnificent structure — so imagine my surprise when I found out that the Italian immigrant who built it actually went to America to work in the coal mines of Pennsylvania. Rodia was from Ribottoli, outside of Naples, and his real first name was Sabato.
In 1921, Rodia purchased the triangular-shaped lot at 1761-1765 107th Street in Los Angeles and began to construct his masterpiece, which he called "Nuestro Pueblo" (meaning "our town"). For 34 years, Rodia worked single-handedly to build his towers without benefit of machine equipment, scaffolding, bolts, rivets, welds or drawing board designs.
Besides his own ingenuity, he used simple tools, pipe fitter pliers and a window-washer's belt and buckle.
Construction worker by day and artist by night, Rodia adorned his towers with a diverse mosaic of broken glass, sea shells, generic pottery and tile, a rare piece of 19th-century, hand painted Canton ware and many pieces of 20th-century American ceramics.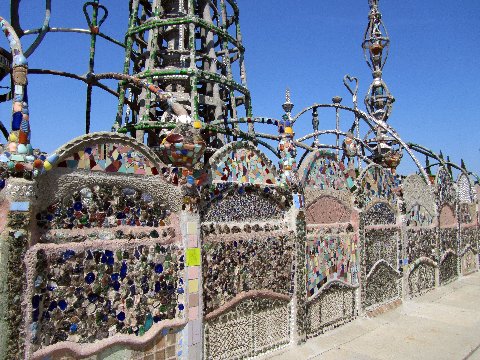 Rodia once said, "I had it in mind to do something big and I did it."
The tallest of his towers stands 99½ feet and contains the longest slender reinforced concrete column in the world. The monument also features a gazebo with a circular bench, three bird baths, a center column and a spire reaching a height of 38 feet. Rodia's "ship of Marco Polo" has a spire of 28 feet, and the 140-foot long "south wall" is decorated extensively with tiles, sea shells, pottery, glass and hand-drawn designs.
Thanks so much Salena for sharing these photos and
this inspiring story about a man, a dream, love, hard work, and persistence.
Happy Love Thursday to all!
[All text in block quotes comes from the Watts Towers website.]
11 Beans of Wisdom to "Love Thursday: Los Angeles' Watts Towers by Simon Rodia, Italian Immigrant"
---