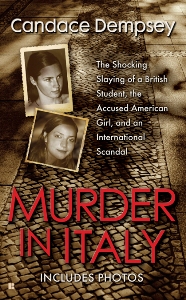 After writing my review of Murder in Italy by Candace Dempsey, I found I hadn't scratched the surface of what I had to say about this case. Once I started writing, I ended up with way too much material for one post, so I'm spreading it out this week, which apparently will be Amanda Knox murder trial week here at Bleeding Espresso. Believe me, I'm not thrilled about it either, but I do want to get this perspective out there, so I ask that you please bear with me, and we'll get back to Calabrian sunshine and cuisine next week.
Over the past couple years, many people have asked about my opinions, and I understand why: I am American, I have lived in Italy for seven years, and I am a lawyer. I've refrained from offering my opinion publicly as I simply don't know what really happened in that house in Perugia in November of 2007.
While I may come from a somewhat unique perspective, I don't know any more than anyone else, and it's not my job to decide whether Amanda Knox, Raffaele Sollecito, and/or Rudy Guede played parts in Meredith Kercher's death. Courts have heard the cases and decided, and we'll soon be going through a similar process again. If you want speculation on "whodunit," you can find it all over the Internet. Have at it.
Putting aside the "Did they do it?" questions, from where I'm sitting, there have been certain aspects of the case that have bothered me from the beginning; that is why I'm writing now. It should be understood, but I'll say it anyway: what follows is MY perspective based on MY experiences as an American (Italian dual citizen) lawyer living in Italy. Your mileage may vary.
To me, there have been three major misconceptions about the trial on the part of the American media: the so-called anti-American bias in the Italian criminal justice system, the so-called media circus surrounding the trial, and the so-called conviction based on nothing. I'll deal with each in turn, starting with:
The So-Called Anti-American Bias in the Italian Criminal Justice System
Let me start by saying I am disgusted with the way the American media has treated the Italian criminal justice system; if someone wants to bash the system, I have no problem with that *if* the person knows what s/he is talking about. If you don't know the basics of the system let alone its ins and outs, it's not only uninformed but also beyond disrespectful to (literally) shout about it on television news programs and rile up the masses, who probably know even less than the "journalists."
From my experience — and as many fellow Americans and other foreigners living in Italy might agree — Americans here are often offered some of the best treatment of any foreigners in many aspects of society. I can't and won't speak for all Americans in Italy, but I have seen absolutely no underlying bias working against us; in fact, I would say it's often quite the opposite. I lived here through most of the George W. Bush years, and even at the height of his unpopularity in Italy, Americans as a group weren't hated — and that's saying something, I think.
I'm having a hard time understanding why if Americans tend to be treated extra-well in everyday transactions, it would turn to animosity, even a witch hunt according to some, in a situation as serious as a criminal investigation — although let's remember that Knox's accusatory finger pointed at Congan native but long-time Perugia resident Patrick Lumumba had him arrested before he was even asked about an alibi, so they seemed to believe wholeheartedly in that American back then.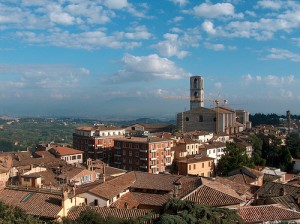 Put another way, I have no problem with the argument that the verdict was against the weight of the evidence (the judges and jury got it wrong) or with those who question the wisdom of putting Prosecutor Giuliano Mignini, who was going through his own prosecutorial misconduct trial (and was eventually convicted) in charge. Indeed, these are absolutely valid challanges. But implying or insisting that the entire Italian criminal justice system had it out for Knox *because* she is American is absurd.
Aside from personal observations, my mind keeps coming back to one question I can't sufficiently answer, and I feel myself wanting to quote Denzel Washington's line from Philadelphia, "Explain it to me like I'm a 4-year-old." My question is this: "What would be in it for Italy to railroad Amanda Knox?" Millions of euros in tourism revenue lost per year because disgruntled Americans won't visit and, taken to the extreme, the possibility that the most heavily armed country in the world wouldn't come to its defense in a time of need?
OK, so maybe Mignini wouldn't think on that grand a scale, but wouldn't *anyone* throughout the entire government? I find it much more plausible that the Italian powers-that-be would find a way to make this go away if they saw a reason to do so. Remember Prime Minister Silvio Berlusconi came back into office in early 2008, just before a new American President would be taking over; couldn't it have been an opportunity to forge a relationship with a new White House buddy?
Granted, like most murder cases, this one isn't technically a national matter, but let's be honest: Italy has liked staying on America's good side since World War II, and anyone who knows anything about Italy knows Berlusconi can do pretty much whatever he wants. If he wanted this to go away, it would.
So I'm left to wonder: if a young American college student (a sympathetic "victim" if there ever was one) has been falsely accused of murder, wouldn't it actually be in the Italian government's best interests to fix the thing? Make it go away? Play nicey-nice with one of the world's so-called superpowers? Or, short of that, make damn sure she gets a fair trial?
To be clear: I'm not saying the Italian criminal justice system is flawless. I'm also not saying there may not have been other improper and/or unethical reasons Knox was pursued as a suspect; from my experiences and observations, I just don't believe her American citizenship was one of them.
I also don't believe the Italian government would sit on its collective hands and let an American girl get "railroaded" as so many have claimed. It just doesn't make sense to me why they would do that. Aside from not wanting a miscarriage of justice on their hands (never looks good on a government), international scandals just don't look very good either — and Italy is famous for the bella figura.
So maybe you're thinking, "But part of the bella figura is actually solving a high-profile crime!" Indeed, but remember the police did have Guede's DNA all over the crime scene, so his conviction wasn't going to be difficult to obtain (and he's even technically a foreigner although he spent most of his life in Italy). And let's not forget there is also an Italian who has been convicted — on less evidence than there was on Knox IMHO. Anti-Italian bias?
Or one could say the bella figura aspect means that Italy wouldn't want to make itself look bad by admitting it was wrong about Knox. Sure, that's a possibility, but remember the police also made a huge scene of arresting Lumumba, but then had to release him two weeks later when his DNA didn't show up at the scene and he had a solid alibi. Plus it seems it would be much more brutta to send someone to prison for murder and then get called on the international carpet, so to speak, by the U.S. Secretary of State or President on the issue — and they'd have to believe that would happen if it was a clear case of railroading, no?
Now, to be clear, none of this means I necessarily think Knox and Sollecito are guilty of the crimes they've been convicted of, but at the same time, I can't easily explain away the fact that no one from a higher level of Italian government has stepped in at any point to question the arrests and convictions — this despite a highly publicized outrage campaign by Americans, including politicians, albeit not top-level. Secretary of State Clinton said just after the verdict that she'd be willing to talk to anyone with concerns about the case, but there's been nothing else reported on that as far as I know. If anyone knows the status of Clinton's review, please do share.
To me, all of the above suggests anti-American bias had nothing to do with this case and that there just may be something behind the conviction after all — such as the 400+ page document written by the court that explains its decision, which I'll be discussing later in the week. Before we get there though, on Wednesday I'll talk about another of my pet peeves about this case: the so-called media circus surrounding the trial. Hope you'll be back for that.
Fellow Americans and foreigners in Italy as well as Italian natives, I'm especially interested in hearing your opinions and experiences, so please add your two beans! The same goes for everyone else too, of course. Please let's try to remain civil and respectful. Personal attacks will not be tolerated.
[PHOTO CREDITS: Perugia Panorama by Renzo Ferrante on Flickr; Perugia by Chris Yunker on Flickr]
112 Beans of Wisdom to "Anti-American Bias in the Amanda Knox Case: Perspective of an American Lawyer in Italy"
---