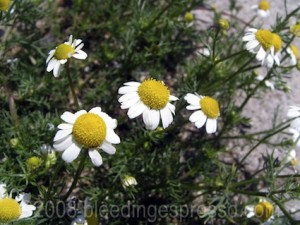 "Prenditi una camomilla!" is a common Italian expression that literally means "Have yourself a chamomile tea!" but it's the colloquial equivalent of "Chill out!" or "Take a chill pill!" if you prefer.
There's even a Facebook group dedicated to this phrase, which happens to be one of my absolute favorites in the Italian language.
More literally, though, many Italians also suggest chamomile tea as a general home remedy for just about any ailment, including insomnia.
Although I love other herbal teas, I'm actually not a huge fan of drinking chamomile; I do, however, *love* the little flowers it comes from.
Maybe you've seen them growing wild somewhere?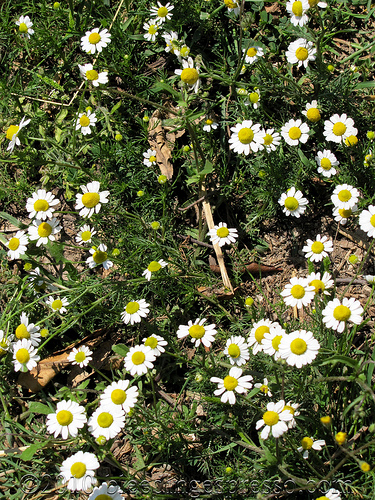 As you can see, they look like little daisies (in fact, they're from the daisy family), and they are literally everywhere in the spring in Calabria. You may know the plant as Roman chamomile, English chamomile, garden chamomile, and various other names.
Did you know even Shakespeare knew chamomile, writing that "The more it is trodden on, the faster it grows" in Henry IV?
In our garden, chamomile grows wild, lining the walkway, shown here with the dogs nearby so you can see just how tiny the flowers are: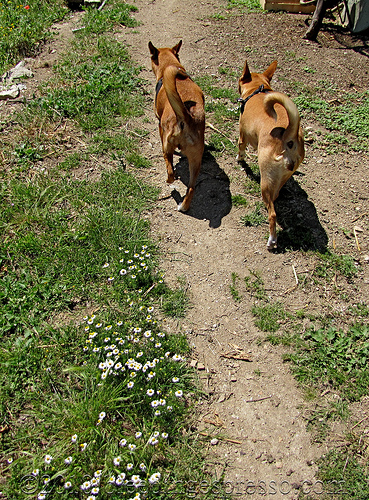 To be honest I didn't even notice these little flowers in Calabria until one day I saw an older gentleman picking them on the side of the road; only then did I realize they must have some use — Calabrians often focus on the utility of plants and flowers, not always their beauty.
Once you're close to the chamomile, though, the unique scent will tell you what the flowers are. Che profumo!
More Health Benefits of Chamomile
Chamomile does a lot more than just calm your nerves, too; it can also act as an anti-inflammatory, which means it can ease indigestion, other digestive issues, canker sores, conjunctivitis, menstrual cramps, eczema, hemorrhoids, migraines, and more.
For a full list as well as precautions for using chamomile, check out the Chamomile Fact Sheet at About.com.
Are you a chamomile fan?
17 Beans of Wisdom to "Benefits of Chamomile: Prenditi una camomilla!"
---