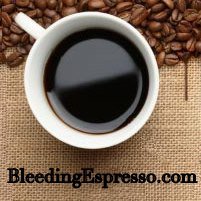 Hey are you a fan of Bleeding Espresso on Facebook yet? We're over 800 strong, so grazie mille to all of you who have followed the blog over there!
But if you're still not convinced as to why you should become a fan on Facebook, let me assure you that things go on over there that never hit the blog.
For instance, in addition to seeing whenever new blog posts are up, you'll also find:
Links to contests around the Internet that I think BE readers would like
Links to blogs, articles, and other websites you might find useful
Comments, recommendations, and other chit chat among fellow BE readers
And, starting today:
Special contests, offers, and promotions available *only* to Facebook fans!
So let's kick this off with a rather generous giveaway…
Here's a hint before you click over.
*Something* to do with Dianne Hales, author of La Bella Lingua…hmm…..
Can Bleeding Espresso reach 1,000 FB fans by the end of the month?!
Feel free to spread the word, of course!
15 Beans of Wisdom to "Contest for Bleeding Espresso Facebook Fans"
---