After a weekend full of making cookies (14 different kind!) with my mom, I'm ready for a long winter's nap. And yet today is the shortest day of the year. Doesn't that just figure?
Anyway, do come back Wednesday for a recipe for one of my mom's newest and most delicious cookie recipes ever–the Chewy Coconut Macaroon. She only started making these last year, and I wasn't here for that, so this is my first experience with these bad boys. Whoa. LOVE.
But now, what you've all been waiting for. I've randomly chosen the winner of The Go-Getter Girl's Guide by Debra Shigley, and the lucky commenter is:
Catherine of Passage to Italy
Congratulations Catherine! I'll be in touch.
To the rest of you, get out there and get your copy for your favorite go-getter girl!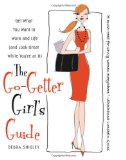 And come back Wednesday for those macaroons!
2 Beans of Wisdom to "Winner of The Go-Getter Girl's Guide…and a Macaroon Teaser"
---