It's been a while since I've posted a recipe, but believe me, this What's Cooking Wednesday was worth the wait.
First off, see that "macaroon" in the title? We are *not* making macarons of the French variety. For those, check out my fellow expat Sara of Ms Adventures in Italy. She's the expert!
Here we're talking about macaroons with two Os, and if you love chewy and coconut and easy peasy, these are for you.
Now, if you're a novice baker and are feeling a little nervous about the thought of beating egg whites till they form stiff peaks, I assure you: do not be afraid of this. It may sound intimidating (it did to me), but all you do is stick the mixer in the whites and let it do its thing. Seriously.
The prep time on these cookies is only about 10-15 minutes, and 20-25 minutes after that, you'll have two dozen cookies. You can do it!
Chewy Coconut Macaroons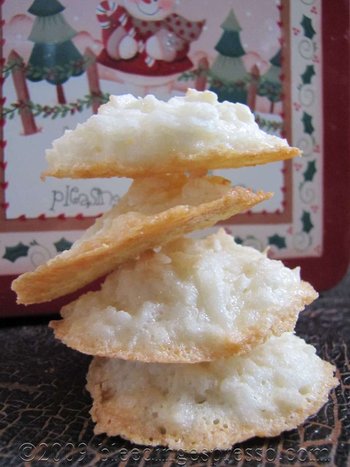 2 2/3 c flaked coconut
2/3 c granulated sugar
1/3 c flour
1/4 tsp salt
4 egg whites
1/2 tsp almond extract
1. Lightly grease and flour two medium cookie sheets (or spray it with nonstick spray, which is what I did) and preheat oven to 325°F.
2. In a medium bowl, combine coconut, flour, sugar, and salt.
3. In a separate bowl, beat egg whites on high until they form stiff peaks, adding almond extract and beating it in just before they're done.
4. Fold egg whites into coconut mixture and mix together till it's all moist.
5. Drop mixture by rounded teaspoon 2 inches apart onto prepared cookie sheets.
6. Bake at 325°F for 20-25 minutes or until edges are golden brown.
7. Let cool completely on a wire rack before storing.
Buon appetito!
7 Beans of Wisdom to "What's Cooking Wednesday: Chewy Coconut Macaroons"
---