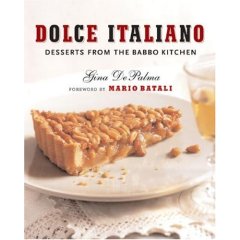 As promised, today we're announcing the winners of the 2nd Annual O Foods Contest for Ovarian Cancer Awareness Month! Check out all the great recipes at the roundup:
Below you'll find the Grand Prize Winner and the Awareness Prize Winner; head to Sara's Ms Adventures in Italy for the 2nd and 3rd place winners.
Gina DePalma picked all three recipe winners, and we're including her personal commentary so you can see her thought process–and just how hard it was to pick among all your fabulous creations!
Without further ado…
The Grand Prize Winner…
as chosen by Gina DePalma…
who will receive her very own signed copy of
Gina's fabulous book Dolce Italiano: Desserts from the Babbo Kitchen…
is…
Well, here are Gina's words:
Ohgodohohgodohgod….
Really, this is so hard.  I've been looking at these for days now.  I feel super guilty that I can't award a prize to every single person.
Can't pick my cousin, that's nepotism.
That's the only one I can rule out.
But, if you had to go on which recipes truly made my mouth water, there are FOUR top contenders in my mind, and I might add that unfortunately, except for one, they all take advantage of the fact that all I do lately is crave ethnic foods from other cultures.
But eventually, I had to pick one.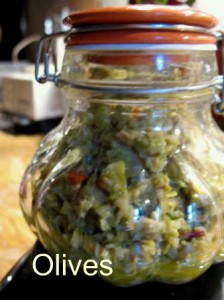 MY TOP CHOICE: Judith's Olive Spread [at Think On It!] really stopped me in my tracks.
So simple and perfect from a minimal amount of ingredients with maximum flavor and impact. It is easy to throw together and it keeps well. And it is endlessly versatile. Truly the kind of recipe that everyone should have in their war chest – it reminded me of something I would find in a classic cookbook, that you pull out and make over and over again.  I love it!  Kudos, Judith!  And thanks for a great recipe…
Yes, congratulations Judith! I know I'll be making this one just as soon as our olives are ready!
Now for the randomly drawn Awareness Prize Winner of a Teal Toes tote bag full of cool ovarian cancer awareness gifts:
Jen really did an amazing job spreading the word about our contest and about ovarian cancer awareness, and I know she'll do wonderful things with her new Teal Toes goodies as well. Thanks Jen, and congrats!
Thanks so much to everyone who participated, and remember you can still donate to the Ovarian Cancer Research Fund at our Firstgiving donation page! We need to raise awareness year round, so anytime you see a chance to raise ovarian cancer awareness, please take it! Women everywhere thank you.
Buon weekend a tutti!
9 Beans of Wisdom to "Winners of 2nd Annual O Foods Contest for Ovarian Cancer Awareness Month"
---