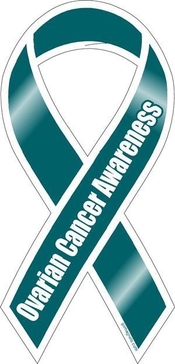 September is Ovarian Cancer Awareness Month, and dedicated readers are probably guessing that another O Foods Contest with Sara of Ms Adventures in Italy might be coming up. Well, you're right, but that won't kick off until next week.
Stay tuned, and if you want to donate money to the Ovarian Cancer Research Fund in the meantime, please go to our donation page at First Giving, which you may also remember from last year.
You can also indirectly donate through Seventh Generation: Let's Talk Period simply by signing up for free registration on their site; Seventh Generation will donate $1 for each new registration, up to $22,000 (each year 22,000 women are diagnosed with ovarian cancer).
Why make a big deal of ovarian cancer awareness?
Well, because ovarian cancer is often known as a silent killer because many women don't discover they have ovarian cancer until it spreads somewhere else; their survival rate is 45%. But the survival rate jumps to 93% when the cancer is diagnosed at an early stage, which only happens 19% of the time.
This is why it's so important for women to know the dangers of ovarian cancer as well as the symptoms and signs, which often mirror those of irritable bowel syndrome, because ovarian cancer is not actually silent, it just whispers softly. *You must listen!*
We'll talk more about this as the month goes on as well, but for now, please also be aware that recent studies have closely linked breast cancer and ovarian cancer through the genes BRCA1 and BRCA2. Check out Sloan-Kettering's great FAQ on these genes.
Paint Your Toenails Teal!
So, this week in conjunction with a pre-O Foods Contest contest, I'd like to re-introduce you to Teal Toes, an organization dedicated to raising ovarian cancer awareness run by Carey Fitzmaurice, an ovarian cancer survivor: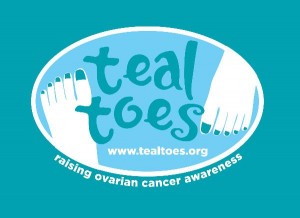 Carey came up with the idea to encourage people to paint their toenails teal in September, especially because:
Ribbons aren't enough.
It's easy!
It makes your toes look pretty.
Teal, the ovarian cancer awareness color, is striking enough to make people ask about it.
Carey has lots of great resources and information over at her place, including a link to the wonderful FORCE (Facing Our Risk of Cancer), so do take a look around–especially at the page of teal polishes to get you started on your toes.
And finally, the contest. Carey has generously offered 5 bottles of OPI Teal the Cows Come Home nail polish for five lucky Bleeding Espresso readers; winners to be drawn at random.
Teal Toes Contest Rules:
1. To enter, leave a comment on this post between now and midnight on Friday, September 11, 2009 (Italy time).

2. For an extra entry, become a fan of Teal Toes on Facebook and send me a message at michellefabio5(at)gmail(dot)com to let me know you've done so.

That's it!
I'll choose the winners at random on Saturday morning and announce them here.
And by the by, if you're feeling extra frisky, why not go out and get some teal polish, paint your toes, post it on your blog, and send me a link (or just send a photo if you don't have a blog). Wouldn't you love to see your toesies featured here and at the Teal Toes Facebook page?
Show us your Teal Toes, ladies! And gentleman! *Everyone* looks good in teal. Including blogs. Feel free to lift the ovarian cancer awareness ribbon above or over in my sidebar (smaller) for your site this month (please upload to your own server though).
Remember, just comment to enter the contest, and do spread the word!
Let's  make enough noise together to kill this silent killer.
32 Beans of Wisdom to "Teal Toes Contest for Ovarian Cancer Awareness Month"
---