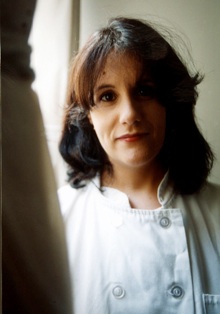 Today is the last day of the O Foods Contest for Ovarian Cancer Awareness Month, so be sure to get your recipes in by 11:59 (Italy time) tonight! Remember Gina DePalma herself will be choosing the grand prize winner!
To end the contest in a big way, we now turn to my interview with Gina, who is the James Beard Award-winning pastry chef at Mario Batali's Babbo Ristorante and Enoteca in NYC and author of Dolce Italiano: Desserts from the Babbo Kitchen; Gina is also currently battling ovarian cancer, was our inspiration in starting the O Foods Contest last year, and has recently started the Cowgirl Cure Foundation, as a way of "rounding up the team to swing into action" and start a national conversation on ovarian cancer.
1. So, let's start with the question I know everyone wants to know the answer to: how are you doing?
I am doing as well as I can at this point. The one-year anniversary of my surgery was in June, and I am still in the midst of my treatment. I'm involved in a drug trial which began with my chemo and continues for a few more months; it will be about 16 months total. A long haul. The recovery from the surgery is brutal, because it is a very invasive operation, a complete assault on your body. My doctors told me it would take about a year to gain even a percentage of my strength back, and man, was it ever true. I'm still kind of a marshmallow.
I have my good days and bad days. The best thing I am doing is building my strength up with the help of my local gym, and I try to do all the right things that my medical team tells me to do. I drink kale juice! I pray. I hope. I try.
2. One of the most challenging things about ovarian cancer is that so many women ignore the symptoms. Can you tell us a bit about your diagnosis process, i.e., what symptoms (if any) you noticed, how you approached the discussion with your doctor (if at all), etc.?
Well, I made a quite a few mistakes. I felt something was wrong, a soreness and a kind of  'presence,'  in my abdomen back in the fall of 2007. I was bloated, and not digesting food very well. I mentioned it to my gynecologist, but because I was so scared that it might actually be cancer, I downplayed it as I reported it. Those words seem really foolish now, but fear is a powerful thing, very powerful, and it told me to do all the wrong things.
I was referred to an internist for another general exam. I got some suggestions on dietary changes to reduce the bloating. I don't know if it was due to the power of my mind or the fear, but the symptoms did fade, and I pushed it all out of my head.
When what I perceived as only tummy troubles flared up again, I eventually made an appointment with a gastroenterologist, who, God bless him, immediately raised his eyebrows at my story and ordered more extensive tests, including a sonogram and then a CT scan. In three days I had the bad news.
So I was diagnosed by a gastroenterologist, not a gynecologist. He looked beyond my own fear, thank goodness. My operation was six days later.
What I learned from my experience is this – since there no is no standard protocol or screening test for ovarian cancer in place right now, it is up to women to be as educated as they possibly can, and if something doesn't feel right, speak up! Be insistent. Doctors will respond to you in most instances if you speak honestly and with conviction about your own body. If not, get another opinion from a different doctor. At that point in the process it is not the time to be timid, or like me, too willing to downplay symptoms because of the fear of what might be going on.
It is also important to know your family history of cancer, and not just your parents. Go up, down and sideways in your family tree and mention any instances of cancer to your doctor.
The bottom line is that you have to be proactive: get educated, ask questions, be insistent if necessary, and be as fearless as possible. That's my lesson.
3. So why the Cowgirl Cure Foundation? What do you hope to accomplish?
Well, as soon as I could sit up and talk, I wanted to do something. It very much had everything to do with the folks who were taking care of me at Mount Sinai Hospital here in New York. They are the most valiant soldiers, out there on the front line, trying to battle some pretty tough odds. Cancer is at an all-time high and funding is drying up. The more I learned the facts, the more frustrated and angry I grew, and I knew I wanted change things.
As soon as I could, I began researching as much positive information I could out there about how I could best help myself do battle against my disease. I enrolled in a drug trial the moment it was offered to me.  Your readers may be surprised to find out that only 3 percent of cancer patients are participating in drug trials. I viewed it as a win-win – it might cure me, and it might cure others. But I still wanted to do more.
I spent nearly a month in the hospital and I trusted my caregivers – my doctors and nurses – more than any other beings on earth. They all kept telling me how close researchers are to a breakthrough in curing cancer – all cancers, not just mine. The unanimous message I got from them was this: now more than ever, the fight against cancer needs money and attention. So before I was discharged from the hospital, I knew I wanted to raise money and shine a very bright light on my disease.
In my dreams, the Cowgirl Cure Foundation will become a household name. I want it to be significant, to really make a difference at this crucial time. It took a bit of thought to figure out how to frame my message, but the gift of the cowgirl ring from one of my very best friends made all the pieces fall into place.
I want to start that national conversation about ovarian cancer. We need a screening test, and we need a cure, and to do that we need money and attention. The cowgirl philosophy is a great way to deliver the message in these difficult times, because I think everyone can identify with that attitude. Cowgirls see what needs to be done, and go about getting it done without a lot of fuss and a lot of can-do spirit. Giddy-up, right?
Actually getting a foundation established is a monumental task, and I am in the thick of things right now.  Let me tell you this:  if for-profit corporations were as tightly regulated as non-profits, we'd be in a different economic boat these days, that is for sure!
4. I know you're still a rather busy gal aside from the Cowgirl Cure Foundation; what other projects are you working on?
Well, I am still working at Babbo as much as I can. And I've spent much of the summer developing recipes for my second book and testing them, picking up from where I left off when I was diagnosed. It took a long time for me to find the willpower and courage to do that, but now that I'm in the thick of it again, it is pretty exciting.
To be perfectly honest, having cancer becomes a full-time job. There's paperwork and insurance woes to deal with, and I'm still on the same treatment schedule I've maintained since I began chemotherapy over a year ago, which means lots of blood tests and procedures. I also devote a considerable amount of time to exercising and eating the right things and paying attention to what my body needs.
At the end of the day, its is about being happy. I want to spend as much time with family and friends as I can. I want to be happy as many minutes as I have left. It isn't as effortless as it sounds.
5. And finally, from a very selfish standpoint (and I'll have you know Sara also wants to know the answer), when will you be back in Italy?!
Ohhhh, how I miss Italy. My memories of my favorite places and my friends are what sustained me through much of this experience. I can't wait to get back, and I'm pretty excited that my next visit will be this November. I'm going back to Rome, and taking a few fun side trips too. I can't wait to get a tall spremuta, and taste coffee as it was intended, and eat properly cooked pasta, and to absorb all the familiar sights and smells and sounds again. It is going to be great!
Thanks so much Gina! You're a true inspiration to us all!
Now, for those of you who want to help but won't get in a recipe in time, remember you can also simply spread the word via your blog and be eligible for a prize (details here) or simply donate to the Ovarian Cancer Research Fund at our Firstgiving page.
And here are some other fun ways to support those who support ovarian cancer awareness and research (info courtesy of Carey of Teal Toes):
Friends of Mel Foundation *adorable* bracelet
Weiman cleaning products and Wright's silver polish
Ocaz "For the Love of Women" pendant
Various items sold by partners of the HERA Women's Cancer Foundation
FoxRiver teal-accented socks (partial proceeds go to HERA)
Pajamgram's Put Ovarian Cancer to Rest pajamas (currently out of stock, but too cute not to mention)
Thanks to all who supported this year's O Foods Contest!
Be sure to check back for winners and the recipe roundups!
11 Beans of Wisdom to "Interview with Gina DePalma on Last Day of O Foods Contest"
---