From 22-26 August, our normally sleepy medieval village was absolutely overrun with people eager to celebrate Tarantella Power,* a yearly Calabrian celebration held somewhere in the toe of the boot depending on which town has won the contract.
Well, Badolato Superiore got it this year and for the next few years as well, so if you didn't make it in 2009, get out your travel planners!
You may think it's all about the tarantella, but it's really a celebration of Calabrian culture in general–music, dance, food, wine, art, crafts, and more. So much more. So. Many. People. I'm told over 10,000 showed up for the Piero Pelù concert on the final night!
By the by, in this video, Pelù is singing a song with Marasà, who I've discussed before–the song also happens to be on the CD over there in my sidebar.
So, indeed, Tarantella Power began early on the morning of 22 August for P and me as we noticed an artist setting up next to our house, ready to paint the arch of the never-finished palazzo across the street.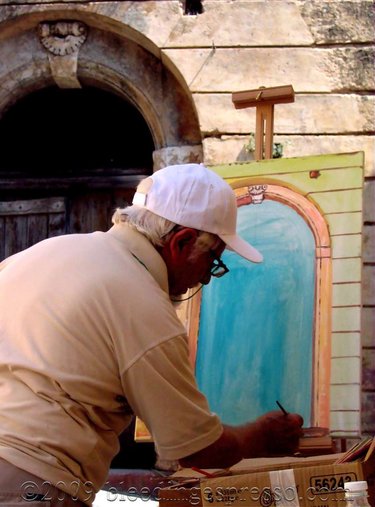 As the morning wore on, I offered the artist some coffee (I know, shocking that I was making some), but he preferred water.
So I kept him in steady supply. It was *very* hot that day even though he was painting in the shade and even though some of the younguns from the group that organized the artists' visits stopped in every now and again to check on him.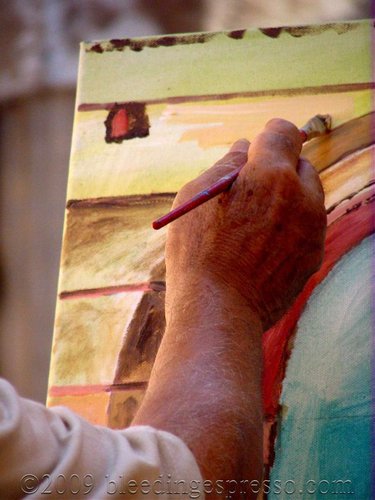 Sadly, I didn't get a glimpse of the finished painting as I only happened to look down from the balcony just as he was packing up and walking away, so no photos of it either. We said our good-byes after exchanging business cards, then a few days later, our doorbell rang.
I looked down at the front door from the balcony (our equivalent of the peep hole, although admittedly, there's very little peeping involved), and there was our new friend, Gregorio Cosentino, with a "pensierino" (small gift, although to me this isn't so small!) for us.
Just for offering a little water to a thirsty man on a hot day.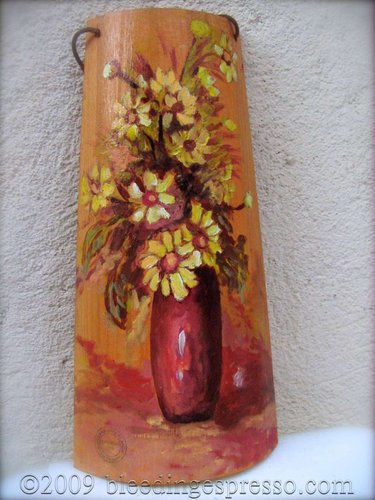 I love Calabria.
*For more photos (with much better coloring), see my Tarantella Power set on Flickr.
16 Beans of Wisdom to "Badolato Hosts Tarantella Power 2009"
---