Since goats really don't enjoy being alone–and since I can't possibly stay by Pasqualina's side every minute of the day even though I would love to–we went ahead and got her a playmate.
Meet Margherita: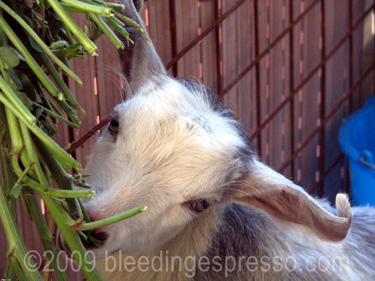 Yes there was some headbutting the first day, but since then, the girls have been getting along quite well; I even peeked in on them one night to find them sleeping with Pasqualina's head resting on Margherita' bum.
They often sleep together in this little "cuccia" in the wall of their new pen: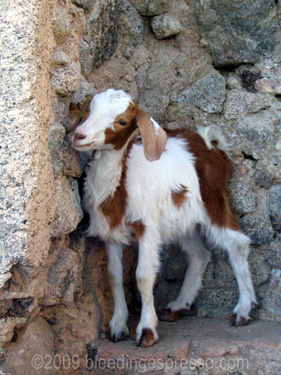 Yes, P built them a brand new pen in our new garden area, so now they have their own outdoor space; I think Pasqualina especially appreciates the fresh air since before she was inside most of the day. Here she is ruminating: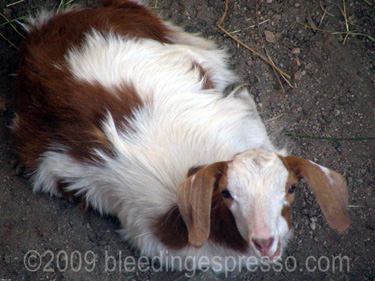 Margherita has really taken to us rather quickly, which surprised me since she's already three months old and wasn't used to getting petties all the time (she comes from a herd of 100 or so goats). Oh but she *loves* petties now!
And indeed, our little 'Rita and little 'Lina have been getting along quite well: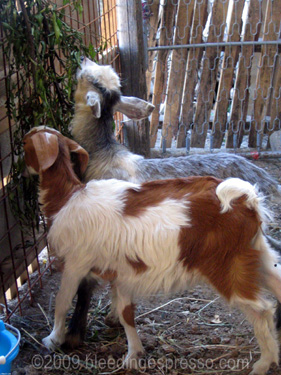 We're all looking forward to many fun, faaaabulous times together.
That's all from the kids today!
Mwaaaaaaaaaah!
P.S. I will announce the winners of La Bella Lingua on Thursday, May 21 (contest still ends the 19th though); there's still time to enter!
27 Beans of Wisdom to "The New Kid on the Block: Margherita"
---