Last week, P and I celebrated four years together.
Lots of people on both sides of the Atlantic ask us about marriage and when we'll make it "official."
We may get around to doing that (and I'll be sure to let you know!) but for now, we're just fine with the way things are, so no announcements are forthcoming–not today at least. Every day is an adventure, though, so who knows what tomorrow will bring?
In any event, I refer to P as my marito (husband) in conversations with others, and he calls me his moglie (wife)–or more often, his mugliere in Badolatese. And as far as everyone is concerned, his parents are already my suocera and suocero; I also have lots of cognati e cognate (brothers- and sisters-in-law).
Also, this is what my left hand looks like each and every day: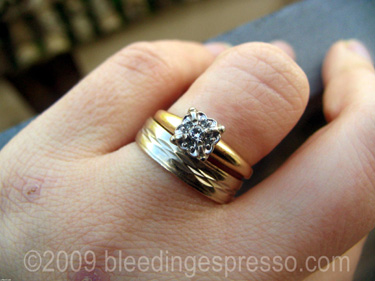 P gave me the white gold band when we had been together for about a month or so way back in 2005, and the diamond engagement ring is just that–but it was my grandmother's, given to her by my grandfather in the early 1940s. She gave it to me several years before she passed away, making sure that I would be the one to have it.
No, the two rings don't remotely match, but that seems rather perfect for P and me, who are, in many ways, polar opposites. We're alike in some important ways too, and just like P and me, the two rings meet somewhere in the middle–I love how the silverish tones shine together–and somehow just work.
And that works for us, too.
Happy Love Thursday everyone!
P.S. I have already contacted the 5 La Bella Lingua winners:

Paola of Always Italianissima

Kazbell

Peter Leonard

ann-marie

Syrahsuzie

Congratulations!
42 Beans of Wisdom to "Love Thursday: Celebrating an Anniversary"
---