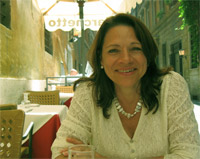 Today I have the honor of introducing you to Lenora Boyle, transformational coach and Option Method teacher. Some of the main branches of Lenora's family tree come straight through Calabria–actually just a few towns over from me–so we had an instant connection over email.
Then I learned of Lenora's planned Women's Italian Retreat on the Ligurian Coast, and I just had to share the opportunity with my readers. You can follow along Lenora's Italian journeys at her blog, Italian Retreat.
Below you'll find a guest post by Lenora detailing her path in forming the upcoming Italian Retreat. Please read carefully and savor her wonderful words, but then act fast to sign up for the retreat—the deadline is Sunday, May 5th (although possibly later)!
Here's Lenora:
Two years ago, I spent a month in Italy, for the first time in my life. My husband and I celebrated our 25th wedding anniversary and then our children joined us to visit around 40 relatives whom we'd never met in Calabria. It was extraordinary discovering Italy and embracing dear family members after a lifetime of not knowing them. I am working on my dual citizenship and I have a dream to visit and thoroughly get to know all 20 regions of Italy. So, that is one of the reasons that this retreat was birthed.
Imagine spending 8 relaxing days in Monterosso al Mare, on the Italian Riviera enjoying the beauty of the Mediterranean, laughing with like-minded women, and focusing on manifesting your dreams and heart's desires. Can you see yourself sitting at a sunny outdoor cafe table on the Italian Riviera, sipping wine, savoring stuffed zucchini flowers, ravioli, and focaccia or eating gelato as you look out over the turquoise waters of the Mediterranean?
You look across the table at all of us laughing. The light that is so unique to the Mediterranean soothes your soul. You just know that from this moment on, you will live la dolce vita (the sweet life), wherever you are.
You have become a mighty manifester and that feels complete.
The Italy Retreat will include 15-20 hours of workshop activities that will help you transform your life, break free from the past, and be happy beyond belief. We'll adventure to several of the picturesque towns nearby, including all five of the Cinque Terre villages along the Mediterranean.
Enjoy the breathtaking trails, beaches and waters of the area while learning the Option Method, a skill set of questions that will support your happiness. You'll come home with less 'baggage' than you brought with you.
ITALIAN RETREAT DETAILS:
DATES: September 12-20, 2009
COST: $1300 USD/ €1108 for hotel (double occupancy), 15-20 hour workshop and breakfasts (price does not include transportation, lunch or dinner)
LOCATION: Immersed in the enchanting landscape of the Ligurian coast, we'll stay in a hotel just a short stroll to the beach.
MEALS: Enjoy delicious locally grown produce, freshly made pasta, local cheeses, and seafood. We will eat at different restaurants in several different towns for lunch and dinner, or enjoy a picnic lunch in the warm sunshine of the Mediterranean. Breakfast will be included with the cost of the hotel.
RESULTS:
Come home with less "baggage" and be able to maintain living "the sweet life."
Reinvigorate your capacity to live daily the passion, vigor, verve, vitality, and vivacious spirit experienced in Italy.
Acquire the Italian approach to life that can help make everyday more joyful.
Understand how to use the Option Method questions to find your own answers.

Thanks for stopping by, Lenora, and buon viaggio!
6 Beans of Wisdom to "La Dolce Vita Women's Italian Retreat"
---