Welcome to Day 2 of Freelance Writing Week II!
Yesterday's topic, in case you missed it, was:
How Much Do Freelance Writers Make?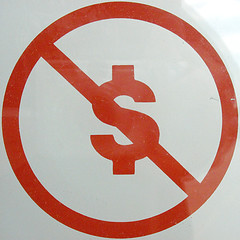 Now from a rather tame subject to an extremely volatile one. How volatile you ask?
Well if you're ever at a party and want to break the ice with a freelance writer, just ask:
Should Freelance Writers Ever Write for Free?
And then stand back. Far.
Many experienced freelancers will say you should never accept non-paying or extremely low paying assignments with the reasoning that, hey, this is your *job* and no one expects the plumber to come over and fix your toilet for free! And even if freelance writing isn't your full-time job, you should still be compensated for your services.
On the other hand, beginning freelancers, i.e., those without any clips, generally don't see anything wrong with accepting jobs with no or low pay because hey, how else can you get started?
So who's right?
I say they both are–at least to some extent.
Don't Write for Free!
Generally, you should avoid writing for free as you are not only devaluing your own work (and telling potential future editors that your writing was worth nothing), but you're also making it difficult for your fellow freelance writers to ask and receive a decent wage for their hard work.
This principle, by the way, also applies to extremely low-paying jobs ($5 or less for full-length articles is extremely low-paying in my book).
Is it *ever* OK to write for free?
I do think there are some excellent reasons to write for free, but the list is *extremely* short:
1. To Compile Clips (Maybe)
If you're just starting out and haven't been published anywhere, you *might* consider writing something for free just to get a clip or two under your writing belt.
But (and this is a *big* but) don't make a habit out of it. It's easy to get into a rut accepting non-paying or low-paying jobs, so set goals for your writing career and check in with them periodically to make sure you're moving forward and not hovering in a bad place.
Even better than writing for others for free just for clips? Start yourself a blog and write "samples" of articles you'd like to eventually send to potential clients. It may be writing for free, but at least you'll still own your material.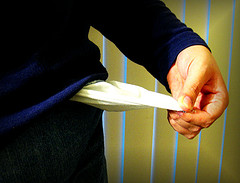 2. Charitable Organizations
If your church or local community center needs a press release, flyer, or other written materials and you're feeling charitable, this is a great way to give back  and also hone your writing skills along the way.
Something like this may also lead to future paying work, so if you have the time and inclination, writing for free in this situation is a glaring exception to the "Don't write for free!" rule.
3. Exposure
To be perfectly clear: I am *not* talking about all those job ads that say "We can't afford to pay now, but you'll get great exposure by writing for us!" Run from those. Fast. If they can't make ad revenue to pay you, how do they possibly have enough readership to give you great exposure?!
What I mean is that if the New York Times calls you up to write an op-ed for free, you should seriously consider doing it, assuming you'll get a byline (and preferably a link to your website!). If the publication asking for your free services is "important" enough and will, indeed, pay in exposure, it might be worth it to write for free.
If you're a blogger, another example might be guest-posting at Darren Rowse's Problogger; the link love and clicks over to your site alone could make your free writing worth the effort.
4. Promotion of Your Work
If you have written a book, for instance, and you can promote it by writing articles or blog posts, this is a good time to write for free–so long as you're submitting to places who also cater to your target audience.
That's my abbreviated opinion on the matter, but if you Google the topic, you'll find lots more opinions, including:
Be sure to come back tomorrow for
"What's the 'Right' Pay for Freelance Writing Jobs?"
If you haven't already, be sure to subscribe through an RSS feed so you don't miss a single Freelance Writing Week II post.

Also free free to bookmark, Stumble, and share these posts with friends via email, your blog, and Twitter. The more people we have reading them, the more ideas and suggestions we can come up with in the comments. We freelance writers have to stick together!
So what do you think about freelance writers writing for free
(or clients requesting that they do)?
7 Beans of Wisdom to "Freelance Writing Week II: Should Freelance Writers Ever Write for Free?"
---