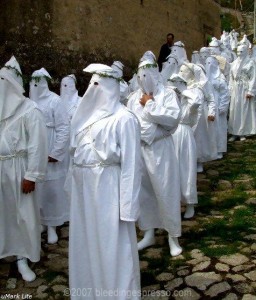 Pasqua, or Easter, is by far the most celebrated holiday in Italy.
Indeed, I'm taking this week off from the blog so I can enjoy some of the festivities, catch up on various work and personal projects, and also continue packing as our move is really picking up steam. Woohoo!
I will be back blogging on Tuesday, but in the meantime if you want to keep up with me, you can always follow me on Twitter @michellefabio or become a fan of Bleeding Espresso on Facebook.

But I'm certainly not leaving you with nothing to do:
Pasqua in Calabria: A description of Badolato Superiore's day long procession on Sabato Santo (Holy Saturday) and La Cumprunta, the magical Easter Sunday meeting between the Madonna and Jesus.
Still Celebrating: Easter celebrations in Italy continue into Easter Monday, or Pasquetta.
Deno's Easter Eggs: One of my favorite childhood Easter memories–now with an additional comment from the infamous Deno himself! How cool!
For those of you who have been around the blog a while, you've probably already seen those links…but not these videos, newly uploaded to Flickr. They are of La Cumprunta in 2007; I tried unsuccessfully to upload others from Sabato Santo and even Good Friday. I *will* keep trying, so do check back for updates. Enjoy!
Buona Pasqua!
15 Beans of Wisdom to "Celebrating Easter in Southern Italy"
---