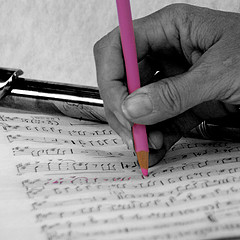 Back in December 2006, one of the reasons I started blogging was to drum up freelance writing business. I've been *very* lucky that this has indeed happened and that my career has continued to grow even in the face of a horrible economy.
Unfortunately, posting here five days a week is becoming increasingly difficult as I pursue more writing opportunities (including trying to make time for a novel or two!), so starting today, I will be posting here at Bleeding Espresso every three days.
When reconsidering my posting schedule, at first I thought to post Mondays, Wednesdays, and Fridays, but that would mean losing Love Thursdays, and I don't want that. And I also don't want to lose What's Cooking Wednesdays either.
So I decided to allow for posting on all different days so I can keep up with some regular features and possibly even go back to an old one–Sunday Scribblings. So yes, there will now be occasional weekend posts as well, if that's when the third day falls.
Another positive note is that I think you, as readers, will be better able to keep up with posts here (I personally can't keep up with reading blogs that post every day!); with fewer posts, I should also be able to respond to comments more fully and thoughtfully, visit more of your blogs, and meet up with you throughout the web more often.
If it seems that I've thought too much about this and wasted a post talking about it, so be it, but I didn't want to just start "missing" days without an explanation; I felt I owed this post especially to loyal readers who have helped Bleeding Espresso grow over the years.
Your support is appreciated more than you know, and I hope you'll continue reading!
And how was *your* weekend?
34 Beans of Wisdom to "Announcement: Changes in Posting Schedule"
---