I never knew how awesome having a kid could be.
Sure, it's a lot of work, but I probably make it even more labor intensive than it has to be because I just enjoy being with Pasqualina so darn much.
My baby goat and I go for long walks at least once a day so she can forage for lots of greens.
I stay with her for quite a while after giving her the bottle–she likes to sleep in my arms afterwards for at least five minutes or so.
I just love watching her chew on hay or barley or my sweater sleeve (she only gets a few nibbles before being scolded).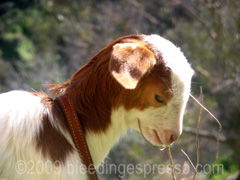 She's adorable even when she's stubborn and resists coming along behind me on our walks. I just drop the leash, keep walking, and a few seconds later I hear the clomp, clomp, clomp of Pasqualina catching up.
And I miss her terribly when she's not in sight, and especially overnight.
Is it any wonder that this is my new wallpaper on the computer (although the colors are really better in the original)?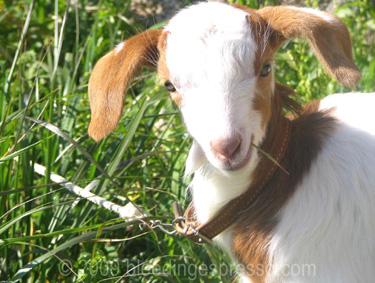 Click to see it wallpaper size, and feel free to copy and make it your wallpaper if you'd like to have a little Pasqualina in your life too.
Because how can you be sad, angry, frustrated, etc., when you have the cutest kid in the world smiling back at you?
45 Beans of Wisdom to "The Cutest Kid in the World"
---