Well here she is:
Meet Pasqualina!
Pascalina (in Calabrese) doing her thing on the goatwalk.
A friend who raises goats recently gave us this little darling capretta because her mother didn't have enough milk for all her babies. So we've been bottle-feeding her (*that* was a challenge to get started), and she's settling in nicely.
We even play "nascondino" a.k.a. hide and seek, but YouTube wouldn't cooperate, so you'll have to wait for a video.
And before you ask, no, she will never be on the dinner table; this kid will be strictly for milk and breeding purposes.
How could you even think otherwise?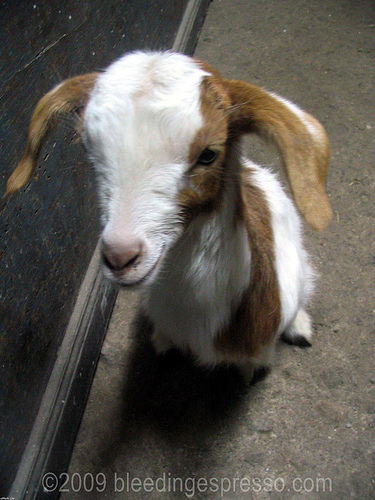 We've also been going for walks together. If you think she's cute in these photos, you should see her hopping along on her leash! Gah! I'm *so* in kid love.
Any of you ever raised a kid? Any tips to share?
P.S. Thanks so much for all your questions on Friday's post; I'll answer them as soon as possible! Stay tuned….
59 Beans of Wisdom to "Are You Ready to Meet Our Kid?"
---