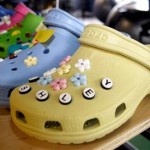 I'm neither a Crocs lover nor hater, but when I saw this headline on MSNBC.com and literally LOL'ed (because of the title, not the subject matter), I just had to share it:
Is the ugly shoe craze about to end?
Crocs auditor questions whether plastic shoe maker can survive
The article discusses how Crocs Inc. lost $185.1 million last year with revenues down almost 15 percent. Two years ago, Crocs had 5,300 employees but at the end of last year, that number was down to 3,700; in particular, manufacturing facilities in Canada and Brazil were closed.
Sounds like Crocs may become another victim in this down economy where people simply have less disposable income to dispose on, say, plastic shoes.
Disclaimer: I actually do own two pairs of fake Crocs bought for 5 euros each at a Chinese store here in Calabria, and I must say they are super comfortable and were a great transition shoe from summer flip-flops to winter boots.
Now I want to know what you think:
Are you going to help keep Crocs in business or what?
Buon weekend!

31 Beans of Wisdom to "Are Crocs Dead in the Water?"
---