We all like to spread the word when a company does us wrong, as well we should so we can warn others, but today, I'm sharing some good news about New Zealand Nature Company because they done good–real good–and they deserve huge props, especially one customer service representative named Bettina.
Back at the end of October, I decided to treat myself to a warm, snuggly pair of boots for the winter since I generally have to wear two to three pair of socks *while inside the house* from November to March or so. These old houses in southern Italy get *cooooold*!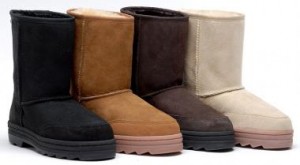 The previous winter, when I was lamenting that I had freezing feetsies, a friend from New Zealand recommended the New Zealand Nature Company, and since I was still in love with these Supertread Sheepskin Boots a year later, I went for it.
I normally don't spend even half this much on shoes, but I knew these would last for years, they were something I sorely needed, and they would also serve as my birthday and Christmas presents to myself.
The order went smoothly, other than my indecision regarding what color to get (I settled on chocolate), and I loved that I could even pay via PayPal as I don't use credit cards.
But their delivery estimate of 10-14 days to Italy came and went. I was patient since I've been around the Poste Italiane block, but when the end of November came and went with no boots, I got in touch with the company.
Bettina was also convinced that the boots weren't coming, so she immediately claimed insurance on the first pair and send off a new pair as soon as the ones I had chosen were back in stock.
How awesome is that?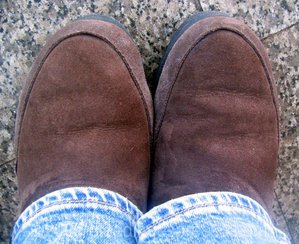 A few weeks later, I got my new boots in the mail, and I swear to you, I've only taken them off to sleep ever since. They are *so* warm and comfy, and I don't know how I survived a Calabrian winter without them.
New Zealand Nature Company, established in 1996, sells boots, clothes, beauty and personal care items, bedware, jewelry, stationery, and more, so if you want great products at great prices with *excellent* customer service, do give New Zealand Nature Company a try.
I'm not getting anything in return for this glowing recommendation–just the satisfaction of passing along the word about a fabulous company.
AND they are running a sale now until January 31–
20% off Supertread Sheepskin Boots
and
40% off Selected Silk and Other Clearance Items!
Prices include airmail insured shipping (choose your currency), and if you're getting boots, do pay special attention to their charts as they use NZ sizes.
And in case you're wondering, yes, I am kind of considering getting another pair of boots now that they're on sale, but I will be sure to warn Bettina first.
Please share your positive online shopping experiences
in the comments or on your own blog!
13 Beans of Wisdom to "New Zealand Nature Company: In Praise of Excellent Customer Service"
---