Back in 2007, I wrote about my mom's friend/mother-like figure Kitty in Remembering the Silver Years. As Kitty was being moved into a nursing home, she was giving my mom all kinds of amazing gifts from her past, many of which my mother passed on to me, as I wrote about in the post.
Our dear Kitty passed away a few months after that, and my mother then inherited more of her things, mainly jewelry. When my mom came to visit me last summer, she brought remembrances of Kitty's life with her and we went through them, piece by piece.
I'm not a big jewelry person. I would never request any as a gift because I just don't wear it often enough, but jewelry as keepsakes of those who have passed on? The best.
A ring, necklace, bracelet, or watch not only physically touched the person at one time, it also surely touched her on some emotional level–a memory of picking it out in the store, the first time she wore it, who had given it to her (for better or worse), how it was always too big or small, etc.
So many of Kitty's pieces are beautiful, and I'm sure each could tell quite a tale as she lived a most interesting life, but my very favorite is this one: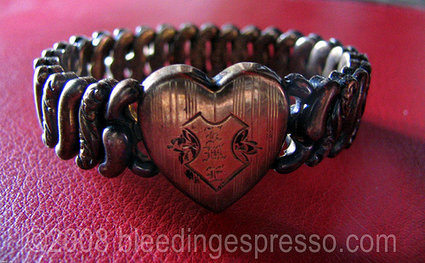 What could be more special than a heart wrapped around my wrist, reminding me of a person who always made me smile and who loved me like a granddaughter?
Happy Love Thursday everyone!
Do you have special pieces of jewelry that were passed down to you?
15 Beans of Wisdom to "Love Thursday: Ring Around the Wrist"
---