Did you know that the paparazzi have their origins in Calabria, one of the poorest regions in Italy?
No, not the actual cadre of photographers who follow around celebrities waiting for them to do something embarrassing or otherwise tabloid-worthy, but the term "paparazzi."
In his 1908 travelogue, By the Ionian Sea: Notes of a Ramble in Southern Italy, George Gissing mentions the owner of the Hotel Centrale in Catanzaro, a man who unabashedly left notes on guests' doors strongly encouraging guests to eat in the hotel's restaurant instead of going elsewhere.
The hotel owner's name was Coriolano Paparazzo.
Fast forward half a century, and beloved Italian director Federico Fellini was trying to pinpoint the perfect name for his overzealous photographer in the classic film, La dolce vita.
Legend has it that Fellini's screenwriter Ennio Flaiano opened Gissing's book "at random" and loved the name Paparazzo. Indeed, the celebrity photograher's last name in La dolce vita is "Paparazzo," and that's why we call his modern, real-life colleagues "paparazzi."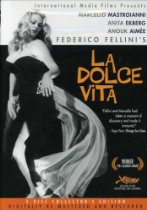 And to think it all started in a humble hotel in Catanzaro, Calabria!
By the by, the Hotel Centrale went out of business in the 1970s, but the building is still there and, in 1999, Catanzaro officials added a plaque commemorating the "paparazzi" tale.
Perhaps Cherrye can hook us up with a photo?
Now go impress your friends with this knowledge, and if you haven't seen La dolce vita yet, here's a great excuse to enjoy the Fellini magic.
Do you know any interesting word etymologies?
I just love that kind of thing, so do share!
P.S. Be sure to head over to Cherrye's My Bella Vita and Robin's My Melange where I'm sharing Travel Tips from a Lawyer!
14 Beans of Wisdom to "Calabria: Home of the Paparazzi"
---