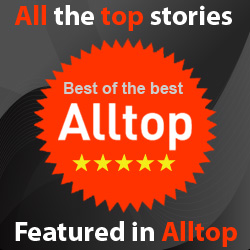 Have you heard about Alltop?
Through the magic of Twitter, I have been seeing the term floated around for several months, but now I have a very good reason to tell you more about it:
I'm now listed on Alltop Expats!
OK, so what is Alltop?
Alltop's homepage says it's "an 'online magazine rack' of popular topics"–439 popular topics to be exact. Founder Guy Kawasaki describes it as "aggregation without the aggravation" with a "goal is to satisfy the information needs of the 99% of Internet users who will never use an RSS feed reader or create a custom page."
Basically you browse Alltop by category or alphabetically if you have extra time on your hands, find what you like, click, and end up with all the top stories on a given subject via the RSS feeds from selected sites.
So, for example, if you were interested in, say, expatriate life, you'd go to
for "All the Top Expatriate News" and there you would find a collection of expat-related information, including the latest posts from Bleeding Espresso.
Easy peasy!
So go have a look around Alltop; I guarantee you'll find lots of great new places to visit no matter what your interests are. As if you needed more blogs and websites to read, right? Yes, but this *focuses* your time, and that's always a good thing.
Have you heard of or used Alltop? What do you think?

17 Beans of Wisdom to "All About Alltop and Why You Should Be On It"
---