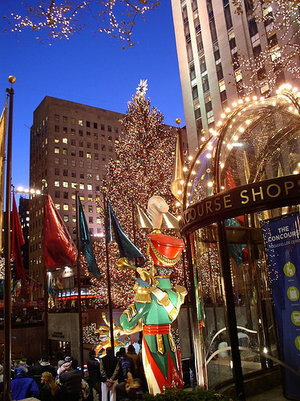 When freelance writers get the Christmas spirit, you get links to Christmas articles! All by me, but hey, they're free!
I can't believe we're already a week into December, although maybe I can a little as I've been writing about Christmas for a couple weeks now.
So just in case you're not quite feeling the holiday spirit, or if you are and just *love* to feed that addiction, here are some of my recent holiday-themed articles:
Christmas Presepi Markets in Naples at Italy Magazine: "The presepi, or Nativity scenes, of Naples are probably the most famous in the world, and the markets along Via San Gregorio Armeno give us the opportunity to build our own from the straw up."
5 Christmas Traditions Around the World at BootsnAll Travel: "If you're tired of the same old food, weather, and, ahem, people this holiday season, now may be the time for you to experience Christmas traditions from around the world." Virtual trips to Australia, Italy, Austria, Brazil, and New York City are included free of charge.
Immaculate Conception: Start of the Holiday Season in Italy at Italy Magazine: "Although in other countries, you might begin to hear Christmas carols at the end of November, in Italy, holiday celebrations begin on 8 December with the Feast of the Immaculate Conception of the Blessed Virgin Mary or L'Immacolata Concezione della Beata Vergine Maria."
So…are you in the holiday spirit yet?
17 Beans of Wisdom to "My Christmas Articles Elsewhere"
---