Ninety-nine-years-young Maria Caterina Reitano moved to Australia at age 41 from Reggio Calabria and will turn 100 years old in January. She has turned down several marriage proposals in her lifetime (two from the same man) and has never made love to a man, but that doesn't mean her search for love is over.
When she was interviewed by The Daily Telegraph for a story on her, ahem, status, she made it a point to say, "Tell them I'm single."
———-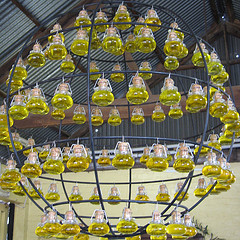 Do you think you know your olive oil?
If so, you might look into joining Italy's anti-food piracy unit, 20 specially-trained officers who are in charge of tasting olive oil and identifying counterfeit versions claiming to be extra-virgin.
In April of this year, 25,000 liters of oil were confiscated and 25 people arrested when it was discovered that what was being sold as olive oil was really vegetable oil infused with beta carotene and chlorophyll. Similar tales of fake olive oil have become disturbingly common in recent years, so hopefully this squad knows their stuff.
———-
As the home of Armani, Prada, Versace, Gucci, and Dolce e Gabbana, Italians are known for style. Rest assured the police can continue that reputation now that Lamborghini has donated a specially-designed car to the polizia.
This €175,200 ($220,000) Lamborghini Gallardo has a 560-horsepower engine and can reach speeds of up to 325 kpr (200 mph); it also has a mini-refrigerator inside for organ transport and a built-in defibrillator for emergencies.
Pretty stylin' huh?
So what's up where you are?
13 Beans of Wisdom to "news from italy: love, olive oil, and lamborghinis"
---