I usually share one, two, maybe three photos of love on Thursdays, but this week, I want to share 20 gorgeous hearts that I found on Flickr for 20 times the love: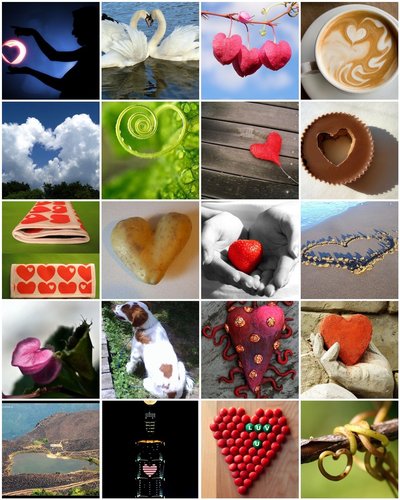 1. August 6th 2008 – Leave a Little Room In Your Heart, 2. Heart, 3. String of hearts, 4. Latte HeArt, 5. Heart-shaped clouds, 6. A green heart for you !! have a sweet and nice weekend., 7. heart-on-a-stick, 8. Peanut Butter Cup Heart, 9. hearts, 10. Heart potato, 11. Strawberry Heart, 12. under my umbrella, 13. Have a Heart…, 14. Sam's back heart, 15. My Gypsy Heart, 16. Eat your heart out, 17. Nature's Heart., 18. heart & moon Taipei 101 (ii), 19. M&M Heart, 20. Tangled Heart <3
Why not spread the love and visit some of these fab photographers?
Me, I'm partial to that peanut butter cup. YUMMY LOVE!
What's your favorite heart?
Here's wishing you a love-filled Love Thursday!
26 Beans of Wisdom to "love thursday: spreading the love"
---