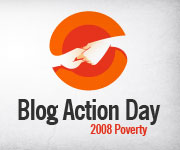 Last year we talked about the environment, and this year the topic is poverty.
If you haven't signed up to join Blog Action Day 2008 yet, there's still time so long as it's still 15 October where you are. Go here, sign up, and get writing!

Alternately, you can simply promote the event or even donate your day's earnings to microfinance a loan through a fabulous organization like Kiva, which I've told you about before, or to a charity like CARE, which I've recently become a part of.
CARE was founded in America after World War II to provide relief for survivors in Europe; since then it has evolved into one of the leading humanitarian organizations fighting global poverty. Here is some more information on the organization from CARE's website:
We place special focus on working alongside poor women because, equipped with the proper resources, women have the power to help whole families and entire communities escape poverty. Women are at the heart of CARE's community-based efforts to improve basic education, prevent the spread of HIV, increase access to clean water and sanitation, expand economic opportunity and protect natural resources. CARE also delivers emergency aid to survivors of war and natural disasters, and helps people rebuild their lives.
I have signed up as an online volunteer with CARE to help fight global poverty and to ask my friends and family to get involved–by donating, by sending emails to government leaders, and by making their voices heard regarding issues like action in Darfur, world hunger, violence against women, and more.
Need more inspiration to take a stand on poverty today?
21 Beans of Wisdom to "Blog Action Day 2008: Poverty"
---