Yes, I know there's a little something political happening in the US right now. I haven't written about it yet, probably will soon, but in the meantime, if you're interested in my opinions on the subject, make me a friend on Facebook or follow me on Twitter. I haven't been shy elsewhere on the Interwebs about my political leanings.
Oh and remember to check out my Guarda! column at Italy Mag this week: The Feast of the Madonna of the Sick in Misterbianco, Sicily.
Now, speaking of Italy, here's a bit of what's been happening in the Bel Paese: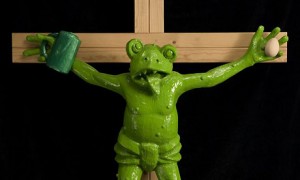 (1) Pope Benedict XVI declared blasphemous the artwork (pictured at left) by late German artist Martin Kippenberger called Zuerst die Füsse (Feet First).
And so, the governing board of the Museion Museum in the northern Italian city Bolzano met to discuss the fate of said amphibian art.
In short, the board told il Papa to go frog himself.
I'm paraphrasing.
(2) Ding dong, my hearing's dead (again with the paraphrasing), said a woman in Lavagna, near Genoa, who blamed the bells of the church next to her house for causing her "moral and physical harm" for 23 years.
An Italian court agreed, awarded her €59,000 ($85,000), restricted the bells' ringing to Christmas and Easter services (only for twenty seconds at a time!), and also ordered that bells of a nearby church be lowered in volume.
Tough times for the Catholic Church in Italy, I tell you.
But now I'm thinking…our church bells (two houses over from me) ring every fifteen minutes to mark the time and several times a day for Mass, noon, etc. Hmm….
(3) And finally, we have two contests from Italy-based bloggers.
Check out Cherrye's Southern Italian nickname contest here and Alex's La Cucina Italiana contest here. I'll be talking more about the latter soon as I'm also participating as one of the taste-testers!
So, what's going on in your neck of the woods?
Buon weekend!
23 Beans of Wisdom to "crucified frogs, disabling church bells and two contests!"
---