In the last group of questions, two specifically addressed my settling into life here in southern Italy. I shall do my best to answer them. (Not sure why these photos aren't very crisp, but please do click on them to see them in better quality on Flickr.)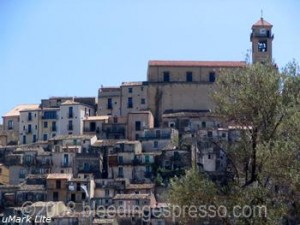 (1) AmberBee of Under Western Skies, formerly of Quasi Italiana!, asked "Do you think that you would feel as settled in a large city, or do you think your small community there (and the fact that you can get to know everyone) has helped you feel welcome there, and that it is really 'home?' Do you think your happiness quotient would have changed had you lived in a different part of Italy… Or would Italy have been 'home' no matter where you live there?"
This is an excellent question, AmberBee. Let me say that I felt at home in this village from the first time I visited, when I knew no one, spoke no Italian let alone Calabrese and had a very responsible job and promising career ahead of me in the States.
When I was here that first time, I felt like my soul connected with this place on a level I couldn't make sense of myself. I cried when it when it was time to go home, even though I knew I would be back. In fact, I knew a few days into my trip that I would live here–a silly proposition, really, for someone who couldn't speak the language and knew no one in the country.
I didn't know when I would live here and for how long, but it was almost like I didn't have a choice. And looking back, I'm not sure I did.
When I did go back to the States for a few months, this place pulled me back every day even though I was perfectly happy to spend hours on end with my niece and nephew there. But there was just *something* inside of me telling me where I needed to be, and it was here.
No, I don't think it's "Italy" in general or even "Calabria" that I call "home." It's this village. And yes, I do think that P, his family and the welcoming neighbors have helped me get settled, and I believe that's exactly the way it was meant to be.
I hope that answers your question.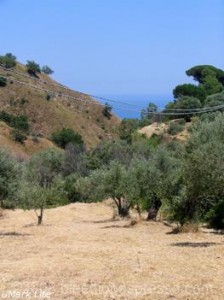 (2) Vita asked: "Do you have some philosophy or view point about that – like that Italians have simpler, happier lives? I know that's a very personal question and I know people have asked about what you miss in the States and I've read those posts (coffee, etc..) but I'm wondering about more esoteric ideas – like the way Americans are direct. The way things get done more efficiently – or, have you somehow moved through that and found that the way of life in Italy is somehow more satisfying to your soul?"
Oh Vita, where can I begin? I'm not a high-strung person by nature. The rat race never attracted me even when I was in school with quite a few rats (and snakes and worms, etc.). I don't need things done yesterday, and I certainly don't need everything I could ever imagine available to me 24 hours a day, seven days a week. Quite frankly, I don't need very many "things" at all.
So is the laid-back, simpler Italian (village) lifestyle more satisfying to my soul? Well, I'd say yes. I have simple needs when it comes right down to it, and as a Libra, I can even be overwhelmed by too many choices.
But do I think Italians are happier because of the general way of life here? Intrinsically, no, I don't think so. I know a lot of Italians who get just as fed up with inefficiency and waiting as the average American would and who would love to give Telecom and, ahem, Berlusconi a swift kick where the sole don't shine.
Here's my thing: Happiness is an individual thing, and I'm lucky/blessed to be in charge of my own happiness–not everyone has this luxury. Even better, every moment gives me a new opportunity to choose happiness. How cool is that?
I've found my happy place, quite literally, and no, it's not paradise all the time, but what fun would life be if there were no lemons? You all know I love lemons.
More questions answered next Monday!
If you have any, leave them in the comments!
28 Beans of Wisdom to "Settling Into Southern Italy"
---