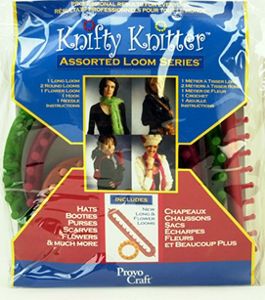 I can't take credit for that punny play on words in the title; it's direct from the package of my brand new Knifty Knitter Assorted Loom Series by Provo Craft!
I had been wanting one of these ever since I started reading Sara's American Girl in Italy years ago, and as of about a week ago, I finally have a set thanks to the concerted efforts of a friend from the US and my mom.
Grazie mille!
Well on Saturday night, P was out with the boys, and around 10:30 pm, I started to get bored. I glanced over and saw the looms and thought, hey, why not?
Less than two and a half hours later, I had this: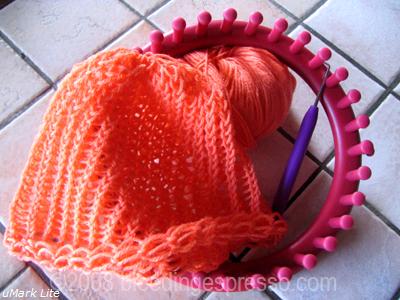 Seriously, the instructions on this set are *fabulous*. I had absolutely no trouble picking this up and going with it. It's so fast and easy–how can you beat having a new winter hat in the time it takes to watch a movie?!
OK, so the yarn I had wasn't the most appropriate for a winter hat, so I will have to get some thicker stuff for the next go around–and then I'll also make a matching scarf.
Oh yes, in the set you get different sized looms to make different things–the long, skinny one is for a scarf, as you might imagine:
To be clear, I'm not being compensated in any way for sharing this wonderful product with you; I just know that some of you are crafty and might be interested, and I know I always love getting personal recommendations.
So go forth and loom!
Tell me, do you loom? Knit? Crochet?
Any favorite websites for these hobbies?
32 Beans of Wisdom to "on becoming a knifty knitter"
---