This past weekend, along with Cherrye of My Bella Vita, I had the pleasure of meeting Leanne of From Australia to Italy and her (Calabrian) Bel Ragazzo (left). . . and I'm sorry to report that we took precisely *no* photos!
I don't know how it happened either, but one of us definitely should have pulled out the macchina fotografica to record the expressions on our faces when our waiter told us that not only was there no pizza for lunch, there was no *anything* besides fettucine with eggplant. *After* we had looked at the menu for fifteen minutes.
Always an adventure in Calabria!
Anyway, in honor of our visit, I'm answering Leanne's questions today:

(1) I don't think you have ever been back to the US since the move to Italy. Do you hope to take P in the future so he can see your country and your 'old' home?
(2) Are you trying to teach or do you want to try and teach P English?
Last things first, as for teaching P English, he really has very little interest, although when my mom was here he did try a bit. I'm pretty sure he's all set on the morning *and* evening greetings now, so he's got that going for him, which is nice.
Honestly though? I actually kind of like that he doesn't speak English since I can talk freely on the phone with English speakers, i.e., rant and complain about him, his family, etc.—although he does always seem know when I'm talking about him, so I think he understands more than he lets on.
Now, on the first question, I actually *have* been back to the States once since moving here; after I was here for six months, I was back in the US for three months. I do hope that P would eventually get to see the US, but most importantly, where I grew up, places I used to hang out and, of course, get to meet my family and friends!
I would *love* to take him for a walk around my town (all two streets of it) and point out things like: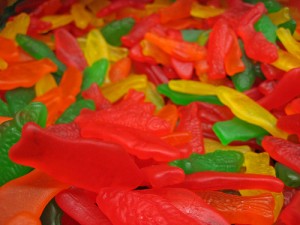 "Here is the bar where I used to get Swedish Fish for a penny a piece on Sundays even though by law it shouldn't have been open; the lights and television were always on super low and the neon beer signs outside weren't lit to make it seem like it was closed if you were just walking by."
And…
"This is where I watched my brother hit homeruns in Little League and was even a cheerleader for a couple years when I was six, seven years old; I probably still have that green and gold uniform with the big A on the front of the shirt somewhere. This is also the field where we played tackle football in the winter in the snow."
And…
"Right there, there used to be an old, rickety, wooden house that creaked and swayed in the wind. On Tuesday evenings, the fire company used it for practice, but on other summer nights, my cousin and I used to sit on the merry-go-round at the adjacent playground and watch the house for hours, absolutely sure that we saw something moving in the sheer curtains in the upstairs window."
And…
"This is where we used to go to pick berries and look for arrowheads and rocks, especially quartz, and swim in big ole stripmining holes that are now filled with the most gorgeous blue water. Yes it's quite dangerous, but it's like an initiation rite for a Coal Region kid."
*Le sigh*
Yes, Leanne, I would *love* to have that opportunity. Absolutely.
What would you include on a tour of your hometown(s)?
21 Beans of Wisdom to "More Answers: On Going Home Again"
---