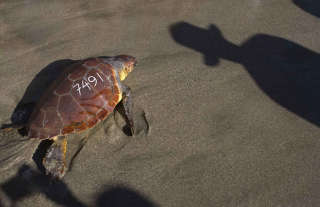 I don't know if you've seen this, but several people have sent me this article in the past few days, so I just have to share it:
Confused sea turtles march into restaurant
That's right! Right here in Calabria, in the province of Cosenza, about 60 newly hatched sea turtles took a wrong turn and instead of ending up in the sea, showed up for dinner at a restaurant instead, startling diners, of course, because who expects to see a baby turtle crawling over your shoe while you're digging into your primo piatto?
Wildlife officials think that the turtles were confused by the bright, artificial lights of the restaurant and simply turned in the wrong direction in their quest to dive into the sea.
Turtle vertigo?
Hmmm….
And although Calabrians are known to eat some weird stuff, don't worry — they (we!) have a special fondness for the baby turtles. Lots of mommy turtles make their nests on Calabrian beaches, and here is one little tartaruga that even made our village blog!
And so, the turtles in Cosenza were rescued and escorted back to the beach.
No word on whether they were given anything to eat first.
Buon weekend!
And check out my Guarda! column this week at Italy Magazine:
La Festa del Redentore in Nuoro, Sardinia.
22 Beans of Wisdom to "Turtles in Calabria: Anything But the Turtle Soup, Per Piacere"
---