When I did the Flickr photo meme, I mentioned that my MOO mini-cards were coming via my mom. Well they're here!
To remind you, mini-MOO cards are about half the size of normal business cards, and you can choose from your own photos on Flickr for the front (or you can get pre-made MOOs as well). MOO makes more than just mini-MOOs, though–you can also get note cards, greeting cards, postcards, and more.
To be clear, I don't get any remuneration or anything for telling you about these, but I did promise to come back and let you know what I thought when I saw the MOOs in person . . . and I think I'm in love.
(click on photos to see larger versions)
Seriously, how cute are these?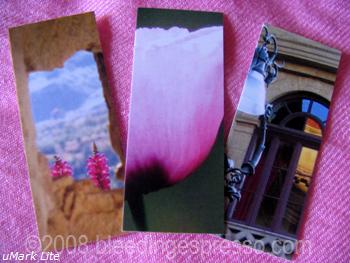 I got these "free" when I upgraded to a PRO Flickr account, but I'm going to have to order more because I find myself not wanting to give these away, and, um, hello? That *is* the point of them.
Anyway, I was planning on writing this post anyway, but then yesterday I got word from the MOOsers that they are offering a special discount to those placing orders for the first time. This was written in the MOOsletter (their word, not mine):
The code 8DN2MP* will entitle a brand new MOO customer
to 15% off their first order.
So there you have it. Go MOO and save MOOlah to boot.
And tell me do, what has MOOved you lately?
OK, I'll stop.
Seriously though, tell me what you've been loving this summer–blogs, websites, books, food? Share your favorites in the comments!
P.S. If you're looking for La Buona Cucina Americana, you'll have to rejoin us in September when we kick start the series again; like good Italians, we're taking a break throughout August (and even a bit of July).
Buon weekend!
23 Beans of Wisdom to "tell me do, what's MOO with you?"
---