Even though I'm not in America any more, the end of May still means bright red poppies to me.
Yes, these in the fields around here, but I'm talking about the ones that remind me of the sacrifices veterans have made for you and me and how many of them still suffer today even while in the "care" of our veterans' hospitals.
Every year around Memorial Day, the Veterans of Foreign Wars (VFW)'s Buddy Poppy Program and the American Legion Auxiliary Poppy Program distribute millions of crepe paper poppies in exchange for contributions that benefit disabled and hospitalized veterans and their families.
Where do the poppies come from?
Why, the hospitalized veterans make these nine-piece wonders in "Poppy Shops," gaining a small wage and also some physical and mental therapy.
What is history of the paper poppy?
During World War I, ever-resilient poppies grew and thrived in the war-torn battlefields of Belgium, inspiring this poem by Canadian Lieutenant Colonel John McCrae:
In Flanders Fields
In Flanders fields the poppies blow
Between the crosses, row on row
That mark our place; and in the sky
The larks, still bravely singing, fly
Scarce heard amid the guns below.
We are the Dead. Short days ago
We lived, felt dawn, saw sunset glow,
Loved and were loved, and now we lie
In Flanders fields.
Take up our quarrel with the foe:
To you from failing hands we throw
The torch; be yours to hold it high.
If ye break faith with us who die
We shall not sleep, though poppies grow
In Flanders fields.
The symbol was picked up by Allied countries immediately after the war ended and paper poppies began being sold. In 1921, the Franco-American Children's League sold French-produced poppies to benefit the children in areas of France and Belgium hit heaviest by the war.
When the Children's League dissolved in 1922, the VFW took over the cause and two years later began the Buddy Poppy Program with veterans producing the poppies for the benefit of veterans and their families.
As much as I love the gorgeous wild, natural poppies that surround me, I'm still nostalgic for those paper beauties and all they represent.
So if you're in America, can you do me a favor? Please make a contribution to the VFW or American Legion Auxiliary and get yourself a poppy.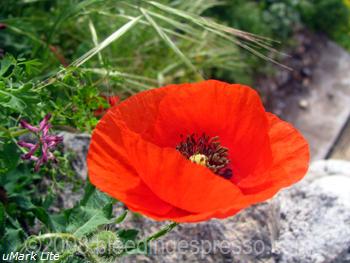 That way you can remember too.
22 Beans of Wisdom to "May, Poppies, and Remembering Veterans"
---