Before I moved to Italy, I was never good at remembering and identifying flowers and trees. No matter how many times someone told me "this is a peony and that's a petunia," the information just didn't stick in my brain–like it just wasn't wired that way.
Thankfully things have since changed, and I find my memory working in perfect harmony with nature. I am always happy to learn a new leaf shape, a new flower, and have it stick in my head without much effort especially since I am surrounded by plenty of flowers I've never seen before (not that I remember anyway).
For weeks I had been meaning to photograph some interesting flowers that I pass on my walk with the dogs. I finally grabbed the camera the other day, afraid that the magenta petals would shrivel up before I had a chance to immortalize them.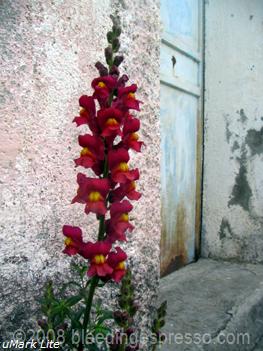 For some reason, I kept thinking: "I *know* my mom would know what these are" but how could I describe them over the phone?
So I came home and put the photos up on Flickr, and asked if anyone knew what they were called. My new friend Doisemum kindly responded with a link in Italian telling me that these are Bocca di Leone (lion's mouth) in Italian.
P had actually told me they were called something that starts with a B and ends in "leone" so he was on the right track. Then I searched for the name in English and found out that these are Snapdragons.
Immediately I thought, "My mom loves snapdragons!"
Only I had no idea why I thought that. No specific memory in which my mom talked about snapdragons came to mind, but I just had this overwhelming feeling that I had to tell her about these flowers.
Later that evening, I walked with the pooches again and couldn't believe what I saw–the very same flowers that I had photographed hours before had been pulled up from the roots and left to rot on the pavement!
I guess someone thought they were weeds (mind you no one lives where these flowers grow) and decided to do his/her civic duty–and then let them sit there in small piles on the ground, as if that looked prettier.
Good thing I had taken the photos in the morning, I thought, and gathered up the long stems, brought them home, and stuck them in some water in a jar on my fireplace, hoping to extend their life just a bit longer: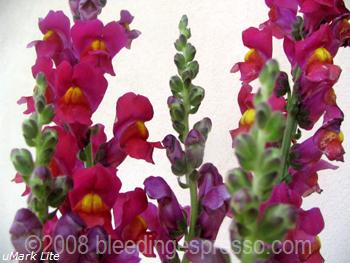 Later I told my mom about the whole strange experience–and her reaction when I told her I found out what "those" flowers" were?
"I love snapdragons!"
Turns out that she has very fond memories of playing with these as a child, making their "mouths" open up and talk.
It is an understatement to say that my mom doesn't have many fond memories from childhood, so this was extra-special for her to relive and also for me to hear.
I can only conclude that she must have told me about this somewhere along the way and that my brain kept just enough information handy for someday when I could truly appreciate the Story of the Snapdragons–for when it was rewired to handle it.
And now I will always remember what snapdragons look like and why it's important that I stop and make them talk.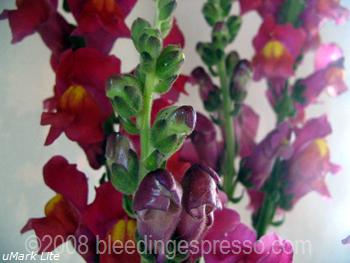 30 Beans of Wisdom to "of snapdragons and lion's mouths"
---