Happy St. Joseph's Day! And to my dad, Happy Italian Father's Day!
Perhaps you're confused. That's OK. You can read all about the Festa di San Giuseppe in last year's post: Fava Beans and Cream Puffs. There you'll also find a photo of my great-great-grandfather a.k.a. the reason I ended up in my charming village.
Auguri Papù and to all Josephs, Giuseppes, and dads out there!
Also to Giuseppinas, Josephines, and any others celebrating!
Also, if some of you happen to remember St. Joseph's Day altars from childhood but are missing them right about now, check out this Virtual St. Joseph's Day Altar. If you don't have any idea what I'm talking about, read about this tradition.
Now . . . it's time for zeppole.
Or as we say around here, zippoli.
As I noted in last year's post, this word means many different things depending on where in Italy you are. This is a common phenomenon, and in fact, just last night I read a similar sentiment in Laura Schenone's The Lost Ravioli Recipes of Hoboken: A Search for Food and Family:
"Prescinsêua cheese may mean one thing in the city, but to some contadini in the country it may mean something completely different."
So, in that vein, some of you know zeppole as cream puffs, but there ain't no cream in the Calabrian version. In fact, there are anchovies.
How's that for una sorpresa if you're expecting cream?
I have a very vague memory of my grandmother [perhaps] making these with anchovies when I was small, but the ones I remember best were simply coated in sugar while they were still hot.
Ah . . . zeppole memories . . .
Waiting patiently at my grandmother's hip (seriously I was that high, or low I should say as she was under 5 feet tall) for these to cool down ever so slightly to dig in. She never got even near a platter-full before one batch was already gone. They're that good.
Unfortunately for my recipe repertoire though, my grandmother didn't make her own dough in her later years when kneading wasn't possible; she always bought fresh dough from the *best* local pizzeria and bakery.
Indeed, she'd pick up the dough early Friday morning (during Lent especially), make pizzas throughout the day and then fry these babies up just as we were finishing up on the pizza. I cannot tell you how much I miss walking into that house on Friday afternoons after school.
MAMMA MIA . . . CHE PROFUMO!
So I went to a few sources for a recipe:
(1) P's mom; (2) my friend Alida from nearby Isca sull'Ionio who I met in Philadelphia (she brought homemade biscotti to our first in-person meeting!); and (3) my dear friend Mary Amabile Palmer's cookbook Cucina di Calabria: Treasured Recipes and Family Traditions from Southern Italy.
Between these wonderful women (grazie mille!), I am tasting exactly what I remember swiping off paper towels as a child. And now you can enjoy them too.
Zeppole con Alici o Semplice
(I Zippoli Calabrese)
Fried Dough with Anchovies or Plain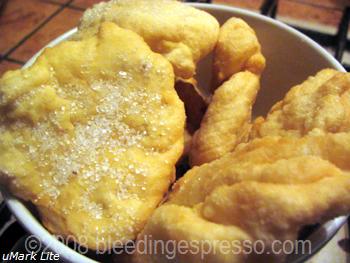 1 package active dry yeast or 10 g of fresh yeast
1 1/4 cups warm water
3 cups all-purpose or "00" flour
1/2 teaspoon salt
Splash of white wine
1 small jar or can of anchovies
vegetable oil for frying
confectioner's or regular sugar for dusting (if making plain version)
1. Dissolve yeast in 1/4 cup of warm water.
2. Put salt and flour in a mound on your working space, a wooden board if possible, although I use something like this like my grandmother used.
3. Make a well in the center and gradually add the dissolved yeast, remaining water, and wine pulling flour into the liquid as you go.
4. Knead for between 5 and 10 minutes until the dough is smooth, elastic, and "bella morbida" as my suocera kept saying–quite soft. If you're used to making pizza, you may have recognized these ingredients; just make sure the dough here is softer than for pizza.
5. Put dough ball in oiled bowl, cover it with a towel, and put in a dry, warm place to rise for about 2 hours.
6. After the dough has doubled in size, take it out, and knead it for another few minutes. Then put it back in the bowl and allow it to rise again for another couple hours. This will make for fluffier zeppole, but if you don't have time, just let it rise once. They'll still be good.
7. In the meantime, if you're using anchovies, prepare them by removing them from their container and draining oil. Cut them in two pieces so that they will fit into a pocket of dough that will end up being about the size of the palm of your hand once folded over.
8. Heat oil over medium heat.
9. Pull off small chunks of dough about golf-ball size, flatten, and stretch into a rectangle. Place anchovy or two inside and fold over, sealing edges well. If you're making the plain version, simply stretch to dough to the size of the palm of your hand.
10. Fry in hot oil for 3 to 4 minutes, turning zeppole so they are lightly brown all sides.
11. Remove from oil with slotted spoon and place on paper towels to drain.
12. If you are making them without anchovies, dust them with sugar while they're still hot–and if you're like me and actually like the anchovy-filled ones with sugar as well (ssh–they think I'm very weird here for this), go right ahead!
Note you can also fill these with lots of other things. Raisins, for example, are delicious inside and then I recommend dusting with confectioner's sugar.
Buon appetito!
47 Beans of Wisdom to "What's Cooking Wednesday: Calabrian Zeppole for St Joseph's Day"
---