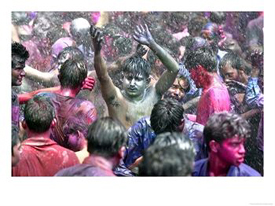 Brian Vaszily of IntenseExperiences.com has written about how every calendar day has a holiday attached to it–from the biggies like Christmas (Dec 25) and U.S. Independence Day (July 4) to more, ahem, minor celebrations for Cable Cars (Jan 17) and Holding Hands (Aug 9).
Unfortunately, we just missed Crab-Stuffed Flounder Day on February 18, but today? It's apparently National Pistachio Day so grab a nut and get crackin'! Hah!
Anyway, based on the idea that "We need more celebrating of the universe and every marvelous thing within it" (right on!) Brian came up with International You Call the Holiday Day and asked his readers to create holidays.
His questions to consider are these:
If you could designate your own holiday, what would that holiday celebrate?
Consider what you cherish that doesn't get the attention you feel it deserves — that which you feel should be recognized and celebrated more — and perhaps go with that. Or go with whatever your heart tells you to go with.
What would you name your holiday?
In the way that chocolate and love notes are exchanged on Valentine's Day and turkey is consumed at Thanksgiving, what actions would you want people to take to honor and reflect your holiday's theme? Why?
In the way that green equals St. Patrick's Day and orange and black equals Halloween, are there certain colors you'd want to associate with your holiday? Why?
Specific food and drink you'd want consumed on the day?
Any existing songs, films, poems or the like that would be a good fit for your holiday?
Famous personalities that come to mind who best embody the spirit of it?
Particular stuff we'd all stick up in our windows and inside and outside of our house to celebrate it?
I'd love to hear what you come up with, so if you don't mind, please post your ideas here and then again (copy and paste is your friend!) over at Brian's in the form at the bottom of this page and you just might see your holiday appear in his free IntenseExperiences.com newsletter.
What would your holiday be?
—————
[tags] IntenseExperiences.com, Brian Vaszily, International You Call the Holiday Day, holidays[/tags]
11 Beans of Wisdom to "international you call the holiday day"
---