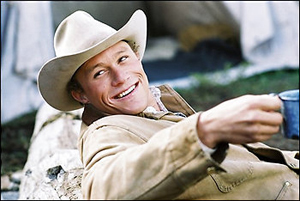 I wasn't planning on writing a post about this, but I just have to. I was literally lying awake the other night thinking about the sudden death of Oscar nominated actor Heath Ledger, so I knew I'd have to write.
Because that's what I do when I need to work through something.
And seeing as though nearly a week has passed since Ledger's death but it hasn't strayed far from my mind for more than a few minutes at a time, clearly I need to work through this.
I wasn't a particularly huge Heath Ledger fan, and I'm not one to be emotionally involved in the lives of celebrities in general, so what's the deal here? Why does the mere thought of his smiling face send me into an emotional downward spiral?
I don't know how many 28-year-olds die every day in the world. However many it is, it's too many, and each one of those deaths is tragic. But it's Ledger who has made me stop and look squarely at death.
Death that comes at all ages, sometimes when we expect it, but more often when we don't.
And I think of Ledger's 2-year-old daughter Matilda, who, by all accounts, he simply adored. Indeed, being a father was a "cosmic" experience for Ledger–and it showed to anyone who caught of a glimpse of him and his little girl around New York City.
And then I think of his former fiancée and mother of his child, Michelle Williams, just four years younger than I am, raising her daughter in a world without Ledger.
Obviously I don't know what happened between them, but as their split is only a few months old after three years and a child together, well, I have to believe that there are still a lot of deep feelings involved. My heart truly goes out to her–and to all young parents who have lost their partner in raising a child.
It'd be nice if the media would leave Williams and her daughter alone right now, but we know that won't happen.
Here on the homefront, P didn't know precisely who Ledger was until I pointed him out (P's not great with names of foreign actors), but once he realized who Ledger was, P, too, was drawn into a pool of sadness–very unlike him, might I add. He's not what I'd call into the whole celebrity gossip scene.
"Sono sempre i migliori quelli che se ne vanno," he said while shaking his head–the rough Italian equivalent of "only the good die young," a sentiment that Robin expressed the other day as well and to which I replied that I couldn't help thinking of Natalie Merchant's song "River" about the tragic death of 23-year-old River Phoenix in 1993. Not all the lyrics apply, but they're pretty close to how I feel about Ledger's situation as well.
A piece from the The Huffington Post written by Star Jones entitled Reporting on the Dead also does a good job.
Toxicology reports and the final word on what caused Ledger's death will be coming in soon, but honestly, it doesn't matter to me what killed him–unless, of course, it was, as suspected, a fatal prescription drug combination that others may learn from.
What I mean is that no matter how Ledger died, his life, his work, his passion, his down-to-earth way of living touched millions of people, and perhaps in death, he's reaching out to even more of us.
I still can't put my finger on why this has affected me so deeply, but I know that others feel the same way. Even though they didn't know one another, actor Daniel Day-Lewis couldn't get Ledger off his mind during an interview with Oprah Winfrey during which he was supposed to be discussing his Oscar nomination for There Will Be Blood:
"I didn't know him. I have an impression, a strong impression, I would have liked him very much as a man if I had. I'd already marveled at some of his work, and had looked forward so much to seeing the work that he would do in the future."
I think this sums up how a lot of us feel about Ledger–he just seemed like a guy you'd love to hang out with at the pub and yet also someone who took his work, his craft, and his family so seriously that you couldn't have anything but respect for him as a man.
And I do hope this remains his legacy. He deserves nothing less.
—————
[tags]heath ledger, michelle williams, river phoenix, daniel day-lewis[/tags]
29 Beans of Wisdom to "heath ledger: 1979-2008"
---