I've read that it's bad luck to have dried flowers hanging around the house because they are a symbol of death–although that idea seems to be eroding a bit, proving that even ancient Chinese philosophies can be guilty of old wives' tales.
Maybe I'm taking a risk, but I love flowers in any form, and I don't see any reason why you can't still enjoy them for what they have become.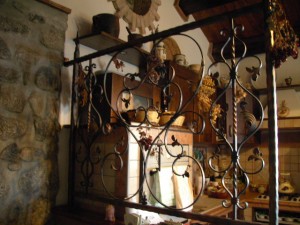 Overlooking my house's only staircase is this wrought iron structure. I started hanging bunches of flowers on it about three years ago, although there still aren't very many bouquets. This is because most of the flowers I receive, buy, or pick can't be dried as they're too fragile, but see those yellow ones? Those were my very first International Women's Day mimosa.
And although it'd be romantic to say that the big bunch of roses in the upper right corner were from P to mark some special occasion, it'd also be a lie. P's more of a pick-flowers-on-the-go kind of guy, which suits me just fine–I don't do well with fresh roses as I'm slightly allergic (my mom is full allergic). Plus I'm more of a wildflowers kind of gal anyway.
The roses you see were actually found in a rubbish bin near one of this village's thirteen churches. Only one of the churches still operates regularly, but for every church, there is at least one woman who opens it up weekly, cleans it, and puts in fresh flowers, candles, prayer cards, etc.
When I saw those roses, still mostly alive although admittedly past their prime, outside one of the smallest and best hidden churches, I marveled at how much care goes into beautifying something that only one other Being sees–that one other Being being the whole point of having the church.
And the little bouquet of red in the middle? In this village, we have many immigrants from Africa and Colombia as well as Kurds from Turkey and Iraq. Just after I arrived came Helen, a nine-year-old Ethiopian girl who had come here with all the men in her family; at that time, there were no other immigrant girls or women (although now there are, as many have rejoined their families).
Both of us hungry for some female companionship, we forged a friendship, taking walks, picking wildflowers, drawing (I keep a stash of colored pencils for children guests, well, and me), and learning Italian together–she much faster than I. One day when I answered a knock at my door, I opened to only fresh air. Then I looked down and saw a small bunch of roses lying on the doorstep. From the corner of my eye, I noticed Helen's head popping back behind the corner.
When I was thinking of a Love Thursday post, I thought of these dried flowers and how even though some may simply think of them as dead and ready for the rubbish bin, I keep them as reminders of times past–good and bad, but mostly good.
Either way, every bunch has a story.
Only as I was taking this photo did I realize that there happens to be a big heart in the middle of the iron structure, so maybe (hopefully) even under Feng Shui principles, that counteracts the death vibes.
Yes, of course I had noticed the heart there before, but you know how sometimes things around you become so commonplace that you don't appreciate their uniqueness anymore?
Guilty.
But I like to think I'm getting better.
Happy Love Thursday everyone!
29 Beans of Wisdom to "Love Thursday: Flowers Dried with Love"
---