When Karen at Chookoloonks started Love Thursday, which has since moved to only photo form, this is what she had in mind.
Well, I'm taking the concept a little beyond expressions of love to encompass anything and everything that I love, makes me happy, makes my life easier, whatever–something that when I look at it, I feel warm and fuzzy.
And today, I offer you something that I truly love: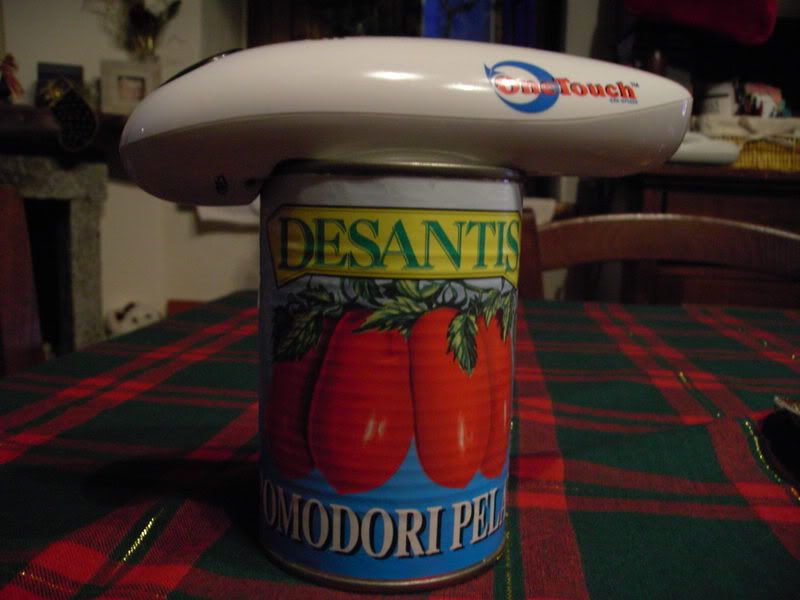 Yes, this thing really works the way they say it does. I see some disappointed reviews on Amazon, but I've been using it every day for about a month now, and I've had zero problems.
You put the One Touch can opener on the can, press the button, and can literally walk away and let it do its thing until it stops–by itself. Then you the lid of the can lifts off with the magnet on the underside of the gadget, and oh my goodness, how I love not struggling with the cheap handheld can openers that I've been subjected to here.
And it's battery-operated, so no power adaptor/converter issues to boot!
But I don't only love the One Touch for what it does. I also love it for what it represents. I've been bitching about the awful can openers here from about the second day I got here, and this here One Touch was in one of my many Christmas boxes from my mother.
Once again, Mom answered the distress call. Big time.
And that's love folks.
Happy Love Thursday!
————–
[tags]one touch can opener, love thursday[/tags]
4 Beans of Wisdom to "Love Thursday: One Touch Can Opener"
---