Ah, Italian bureaucracy. Didn't take long to get me on this subject, did it? But it's actually not a criticism! If you've got a pen handy, mark this down, as it's probably the only time you'll see me happy about something involving a comune and official stamps.
Yesterday I finally got my carta d'identità, the Italian ID card. This marks the end of a long journey to Italian citizenship — dual citizenship actually. So I'm allowed to have two citizenships because of a neat little thing Italian bureaucrats call "jure sanguinis," or law of the blood.
No, there's no organized crime involved. Geez, why you always gotta go there when blood and Italian are mentioned together? It just means that when the Italian bloodline is intact, i.e., no one has renounced his/her Italian citizenship before the next in line was born, Italian citizenship carries on down.
For me, it was from my great-grandfather, grandmother, and father–and yes, it required a lot of paperwork. Birth, marriage, death, and divorce certificates, and then a two and a half year wait. But now it's done, and I'm legal here. Finally.
So, to celebrate, I'll share my first photo. This is the view of the Ionian Sea from my house in a village of just 300 souls–most of whom remember American soldiers coming into the piazza and handing out chocolate to the children to close out World War II.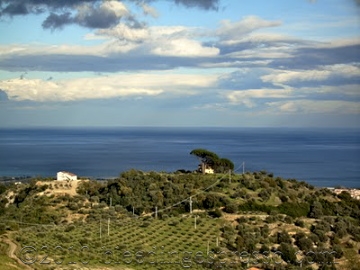 17 Beans of Wisdom to "Conquering Italian Bureaucracy: Getting My Carta d'Identità"
---