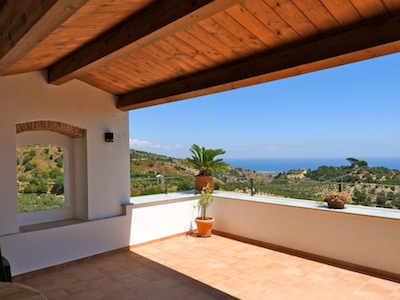 Are you thinking about moving to Calabria?
Nearly fifteen years ago when I made my own leap across the pond from the United States, I would have thought that was a silly question.
Back then, English speakers were few and far between 'round these parts and the only people who had even heard of Calabria were those who had origins here. But between Americans, English, Danes, Swedes, Germans, and others who speak English, we have truly invaded the toe of the boot — not just in my area (in the province of Catanzaro on the Ionian Sea), but all over Calabria.
And judging from my email inbox, the "moving to Calabria" trend doesn't seem to be slowing down any time soon.
Look, I don't blame you. The scenery is breathtaking, the people are generous, and the cost of living is a lot lower than most of Italy, especially if you're comparing it with cities like Rome or Florence.
There are also many, many properties for sale in Calabria, a lot of which have come with extremely attractive price tags — especially now that the dollar and euro are more on par than they've been in a long time! I've interspersed photos of available properties in this post.
Before you commit to making the leap, though, please take a look at these dos and don'ts for moving to Calabria written with love by someone who's been there and done that.
Never did get that pesky T-shirt though. Harrumph.
The DOs:
1. DO spend some time in the area you want to move to first.
I've seen several people online lately simply throwing out the question of where they should move to in Italy. The bottom line is that no one is you. No matter how much someone loves where they live, they have different needs and wants from yours.
Beyond that, there's the old intangible factor of just "feeling" it when you get there. If you talk to most relatively happy, long-term expats here, they will invariably tell you they knew they were meant to move to that specific place. I felt it. My bestie Laura at Ciao Amalfi felt it. It's not a coincidence. Your place will call you if you listen.
2. DO try to make some contacts in your chosen town.
Moving to a different country is an enormous undertaking, and you will be grateful for all the help you can get, especially if your Italian is a bit lacking at first. If you follow #1 above, it's pretty easy to achieve this one in Calabria. Unless you've chosen a larger city where people are more anonymous, you will surely find at least a few potential new neighbors willing to help you figure some things out.
3. DO learn Italian (and don't worry about the dialect for now).
Despite the influx of English speakers in Calabria, it's still not common to find someone in a government office or store who can help you in English. I only knew basic Italian phrases and some verbs when I arrived, so it's not impossible to learn on the fly.
Still, the more of the language you know when you arrive, the easier the transition will be in all respects — including socially, which should not be underestimated. Only being able to exchange small talk about the weather with people gets old pretty fast, trust me.
And yes, natives do speak a lot of local dialect in these smaller villages, but don't worry: for you, they will stick to standard Italian. Except the older folks sometimes, in which case, just smile politely and nod. Sure, you can them "non capisco," but they will probably keep talking anyway. Just roll with it.
4. DO figure out how you can stay here legally and also how you will make a living.
These are critical. If you have Italian heritage, the first thing you should do is determine whether you are eligible for Italian citizenship jure sanguinis. Having citizenship makes everything a helluva lot easier, but if you can't get it, you must look into visas with your local consulate and how you can stay in Italy legally.
One of the potential visas is for work reasons, and I won't sugarcoat the fact that unemployment is ridiculously high in Calabria. Finding work teaching English is fairly easy, but it's unlikely to be either regular or lucrative. And not for nothing, but just because you speak English doesn't mean you should be teaching it, so please research this as well before simply assuming this is how you'll make a living here.
If you can do some sort of location independent work, this is ideal IMHO. I have been freelance writing and editing since I arrived and although I briefly taught English and worked with the local health care agency as a translator/interpreter, I haven't have had to rely on finding work locally. That kind of economic freedom makes living here a lot easier (though pay careful attention to tax rules as well!).
5. DO have some savings.
I'm sure I don't have to tell you that sometimes things don't work out as you plan, so a financial cushion is a good idea in case things fall through with employment, housing, or any other factor that could make life more challenging here.
On the other hand, when I moved I had more of a sachet than a cushion, and I made it. But if possible, again, do as I say and not as I do on this one as well.
The DON'Ts:
6. DON'T think life here is just like being on vacation.
Italian bureaucracy is infamous, and its reputation is well deserved. Moreover, if  you're moving to a larger city, you may find some of the conveniences you're used to, but in rural Calabria it's hard to really think of anything I'd call "convenient." Most everything closes for a few hours in the middle of the day and on Sundays, public transportation is sparse, and basically everyone wants you to show up in person for everything.
These types of things may be quaint for a week on vacation, but dealing with them each and every day — in Italian — can be challenging. Moreover, your interactions with people are going to be more authentic, for lack of a better word . . .  no more niceties put on just for tourists. Everyone knows Italians can be warm and welcoming people, but remember, they are also just people like you and me, and with that comes all kinds of personalities and problems just like anywhere else.
Again, spending extended time here before moving can help you get a better taste of everyday life before committing to anything.
7. DON'T try to find a house or apartment from afar.
There's simply no way to know what you're getting into regarding housing without being here in person — and that refers to both the people you're dealing with as well as the living situation itself.
Photographs can be taken from extremely creative angles and yes, some people may find foreigners easy prey. Come and rent a place for a bit so you can look around first and sign contracts later.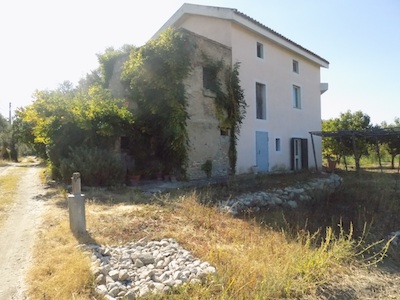 8. DON'T underestimate the extreme weather.
People often think Calabria is tropical in climate, and it's just not. It does get extremely hot in the summer — into the 100s is common — but usually without humidity. The temps also drop to freezing and below in the winter (and the further up you're in the mountains, the colder it gets). We have great skiing, for example, in the Aspromonte and Sila Mountains.
Sure, you may be thinking, it's hot/cold where I currently live, too. OK, but do consider that central air conditioning and/or heating is rare in Calabria, mostly because the cost of electricity is so high. Exacerbating the extremes is that these stone houses are not well insulated for the cold, so winters can be especially brutal with cold, damp weather for months at a time.
On the bright side, the lower floors of houses tend to stay livable in the extreme heat of the summer — but that won't help much if you have a second floor apartment.
9. DON'T romanticize the ease of using public transportation to get around and visit Europe.
Yes, Italy is only about the size of Arizona and you are relatively close to many other countries simply by living here. But there's a BUT.
For one, Calabria is not very well connected through the train system. Yes, you can get to other main stations in Italy from here, but many small stations have closed, which means often having to get a ride or drive to one of the main stations (and paying for this can sometimes cost you as much or more than your plane or train ticket).
Also, our main airport is Lamezia Terme — but the train station in Lamezia is not connected to the airport, so, again, either a taxi or ride is necessary to travel between the two.
It's also not as inexpensive to travel around Europe as it might seem. Yes, there are always deals, but your choices of flights, flight times, and airlines out of Lamezia Terme are somewhat limited.
Don't get me wrong, it's still great to be able to get to Rome in a matter of hours, but unless you have a pretty healthy bank account, flitting around isn't as easy as you might imagine.
10. DON'T let tales of organized crime scare you off.
Ah, the best for last. If I had a euro for every time someone asked me about the mafia in Calabria (which, for the record, is called 'Ndrangheta), I'd probably be a target of organized crime, ahem.
Yes, Calabria has 'Ndrangheta, and yes, it is rampant in business and governmental dealings especially in some areas. This affects many aspects of life here like the poor infrastructure, difficulty of starting some kinds of businesses, and such, but what it does not equate to is a higher level of violence or violent crime — especially as it involves the average (unaffiliated) citizen.
I don't have statistics, but just from my experiences and from reading the newspaper, Calabria is just like anywhere else regarding crime where one should take all the usual precautions. That said, in my tiny village of 150 souls where everyone knows everyone else, I would think nothing of walking alone with my three-year-old late at night — so again, check out where you might want to live to get a good sense of what you're getting into if this is something you're concerned with.
*****
I know some of the things discussed above may come across as negative, but I hope not overly so; as you know if you've read my site at all, I do love living here. As with any place, though, there are gives and takes, pluses and minuses, and this is just meant to offer up some of the realities of actually making a move here.
Now, any more questions about moving to Calabria?
Shoot! (HA!)
*****
This is my post for the Italy Blogging Roundtable topic for January: MOVE(D). Please take some time to visit my fellow bloggers at the table:
10 Beans of Wisdom to "10 Dos & Don'ts of Moving to Calabria"
---