As we're at the height of basil season here, I thought I'd share with you my method for how to keep basil fresh after it has been cut from the plant.
I've tried all kinds of ways over the years, and this is what I have found works best: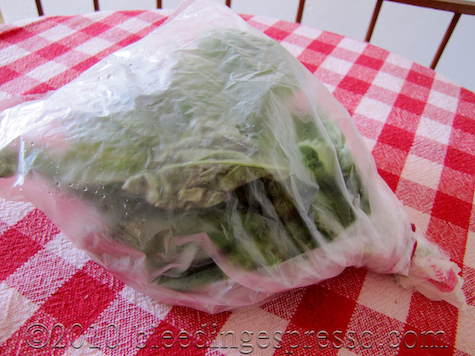 1. Wrap the stems in a damp paper towel.
2. Put a plastic bag over the unwashed leaves and secure with a rubber band at the base.
3. Place the basil in the refrigerator.
4. Pluck off leaves as you need them, washing just before use.
With this method, I have kept basil fresh for up to two weeks in the refrigerator, but you do want to keep an eye on it if you're not using it immediately. Be sure to re-wet the paper towel when it's going dry and also remove any leaves that are turning black and/or slimy; they will get moldy if left in there too long.
If you still aren't using your basil quickly enough before it goes off, wash and pat dry the basil then tear off the leaves and pop them in a freezer bag. The leaves won't be great for something like a Caprese Salad once they're thawed, but they'll still add great basil taste to soups and dishes like our Borlotti Beans alla Calabrese — and they do retain excellent flavor for about four to six months.
What are your favorite food storage tips?
18 Beans of Wisdom to "How to Store Fresh Cut Basil"
---