Today we're talking about Dario Castagno's Too Much Tuscan Wine, his third book following up Too Much Tuscan Sun: Confessions of a Chianti Tour Guide and A Day in Tuscany: More Confessions of a Chianti Tour Guide.
Dario is a London-born son of Italian wine importers who moved to Tuscany with his family at age nine. For many years, Dario gave tours of his beloved Chianti hills, but he quickly became a main attraction himself, particularly after the publication of his first book.
Not one for the celebrity lifestyle, however, Dario quietly stepped out of tour-guiding on a grand scale and now meets with smaller, select groups, speaks internationally about Tuscany, and works on various film and DVD projects. Oh, and writes books.
Check out Dario's latest news at DarioCastagno.com.
*
Don't you love it when you pick up a book, and you're 50, even 100 pages into it before you look up again? And then you put it down because you have other things to do but you find yourself sneaking peeks in between tasks, balancing it in one hand while you stir sauce with the other, and, ahem, even carrying it into the bathroom?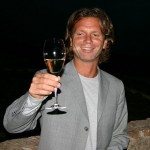 I do, and that's exactly what happened to me with Too Much Tuscan Wine, Dario Castagno's wildly entertaining book about his experiences with, not surprisingly, too much Tuscan wine.
I know it's cliché, but I really did laugh and cry through various parts in the book—rather appropriate as a long evening of drinking wine can lead to very similar emotional reactions.
As wonderful as Dario's tales of friendly challenges (the "truss" wine tour of Siena bars), animal encounters (the snoring boar in the backseat), the "Poolio" (a makeshift poolside version of the Palio), and general drunken debauchery are, my favorite part of the book was the glue that held it all together: the tale of the mysterious Mia, an American editor who contacted Dario via e-mail and urged him on with each new chapter he wrote.
I won't spoil anything by adding more details, but I can't stress enough how much I was touched by the magic of this seemingly random e-mail and what came of it.
It probably goes without saying that I give this book five out of five espresso cups:
although I suppose wine glasses are more appropriate in this instance.
If you love wine, Tuscany, Italy, entertaining stories, and just really fun reads, get this book. Then pour yourself a nice glass of your favorite red (I'm with you, Dario–no white for me either!) and dig in.
*
Subscribe to my Book Reviews feed — book reviews ONLY, which aren't published to the main feed — by visiting Feedburner.
50 Beans of Wisdom to "Too Much Tuscan Wine by Dario Castagno"
---