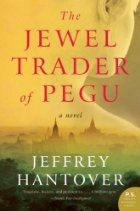 The Jewel Trader of Pegu by Jeffrey Hantover tells the story of Abraham, a young man from Venice who escapes the city's ghetto and restrictions on its Jewish citizens in the fall of 1598. His work takes him to the Burmese kingdom of Pegu, which has a rather unique custom of asking foreign traders to deflower young brides (this, by the way, is historically accurate).
And so enters Mya, testing Abraham's faith, good manners, and everything he believes in. Just when he thinks he has those things figured out, Pegu goes under siege, and he has to make even more difficult decisions, including whether to try to smuggle Mya to Venice, a crime that could lead to the deaths of many.
I think because of its switching narrative perspectives, it took me a while to get into this book; at about 75 pages in, though, I was hooked, and at that point, there was no stopping me.
For several days, I took Abraham and Mya everywhere with me. I couldn't wait to find out what he was learning about himself, Judaism, Catholicism, Mya, and Pegu itself–and how he was expressing it in letters to his cousin Joseph back in Italy. And what was young Mya feeling, in this strange house with a foreign man?
The Jewel Trader of Pegu is an extensively researched and beautifully written book. It was surely a great challenge for Hantover to write from the alternating perspectives of Abraham, a 16th century Jew in Venice, and Mya, who is illiterate, but it didn't show at all in the prose–and I consider that a sign of great writing.
If you like well-crafted, well-written, compelling stories that delve into cultural differences, historical customs, and the meaning of true love, The Jewel Trader of Pegu absolutely delivers.
It wasn't a quick read for me as it had me stopping and thinking every few pages, and that's part of why I enjoyed it so much.
I give this book four espresso cups out of five.
Be sure to check out Cherrye's review of this book as well!
What are you reading this summer?
*
Subscribe to my Book Reviews feed — book reviews ONLY, which aren't published to the main feed — by visiting Feedburner.
21 Beans of Wisdom to "The Jewel Trader of Pegu by Jeffrey Hantover"
---