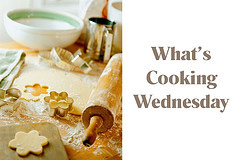 One of the American magazines my mom so generally sends me from time to time is All You. Have you heard of it?
I *love* this magazine. The writing is casual and comfortable, and it includes many ideas that I'm actually likely to use–not just things that although I find interesting would never attempt.
One of those fabulous ideas was an easy recipe for Apple-Cinnamon Cupcakes in the December 26, 2008 issue, and this week's What's Cooking Wednesday recipe is my adaptation.
Aside from making delicious muffins, this recipe doesn't make very much–so it's great for those of us who will have to eat most if not all of the muffins ourselves.
I added oatmeal to make them a bit more muffiny as opposed to cupcakey and also to add more nutritional value, although as they were, these were actually respectable as far as sweets go (nutritional information is listed in article on page 114). These came out extremely moist and quite dense–just the way I love baked apple cakes, er, muffins.
Plus I figure with the oatmeal, these are now totally OK for breakfast, right?
Glazed Apple Oatmeal Cinnamon Muffins
(makes 5-6 muffins)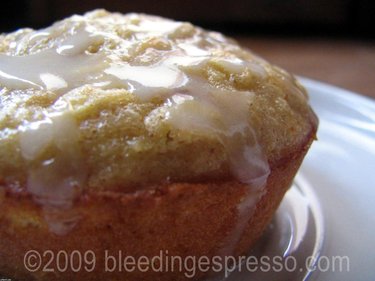 For muffins:
3/4 cup flour
1/2 cup sugar
3/4 teaspoon baking powder
3/4 teaspoon cinnamon
Pinch of salt
1 egg
1/2 cup milk
1/4 cup vegetable oil
1/2 teaspoon vanilla extract
1 large Granny Smith or other tart apple
Juice of half a small lemon
1/2 cup oatmeal
For icing:
1/3 cup confectioner's sugar
1 tablespoon lemon juice
1. Preheat oven to 375°F.
2. In a large bowl, mix together dry ingredients for muffins.
3. In a small bowl, whisk together egg, milk, oil, and vanilla, and stir into dry ingredients until just combined.
4. Peel and grate apple into fine mesh sieve over the sink, being careful to stop before hitting the core. Squeeze in lemon juice and mix to distribute among apple.
5. Stir apple and oatmeal into muffin mixture.
6. Grease muffin pan and fill muffin cups 2/3 full. Bake until golden and toothpick inserted in center comes out clean (about 20 minutes).
7. Let muffins cool for five minutes then remove and place on wire rack.
8. Meanwhile, in a small bowl, whisk together confectioner's sugar and lemon juice, and then drizzle over muffins.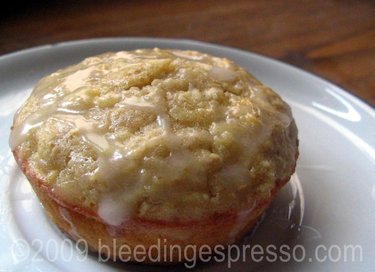 Buon appetito!
P.S. Remember today is Pesce d'Aprile in Italy!
For more fun, check out April Fool's Backfires!

22 Beans of Wisdom to "What's Cooking Wednesday: Glazed Apple Oatmeal Cinnamon Muffins"
---