Just those words have your mouth watering, don't they?
Well not if you don't like peppers, but if you're like me and could eat any kind of pepper–sweet, hot, red, yellow, green–at just about any given time, you probably love roasted peppers as well.
And there's no reason why you can't have them made at home whenever you want (provided that you can get peppers). My favorite are roasted red peppers because they're oh-so-sweet, but you can use any kind you like.
There are a few different ways to prepare them, but to me, grilling them is best. We do ours over smoldering coals:
But if you use your broiler, the peppers are still going to be delicious. Check out this great tutorial from AllRecipes.com on how to roast peppers in the oven.
Yes these get a little messy (I'm spoiled in that P actually enjoys all the dirty work here), but they are so worth the effort–you'll never buy pre-prepared roasted peppers again after you taste them homemade.
Perhaps some of you are already wondering what to do with roasted peppers. A simple Google search led me to this page from Prevention's The Healthy Cook: The Ultimate Illustrated Kitchen Guide to Great Low-Fat Food.
Some of The Healthy Cook's suggestions are pepper and cheese canapés, pepper fritters, peppers and shrimp salad, antipasto, and peppers parmigiana. They all sound fabulous, as does this book in general now that I'm looking at it more closely. . . .
Some more ideas? Add them to sandwiches, salads, dips (great in hummus!), tomato sauce, or as a topping on pizza.
This is what we usually do with our roasted peppers: we like to dress them up with olive oil, garlic, and a touch of salt and then eat them with fresh, warm bread–even on toasted bread for a nice bruschetta with peppers.
Remember how great that bruschetta with tomatoes was? This is a great winter variation.
So without further ado, this week's What's Cooking Wednesday:
Roasted Peppers with Garlic & Olive Oil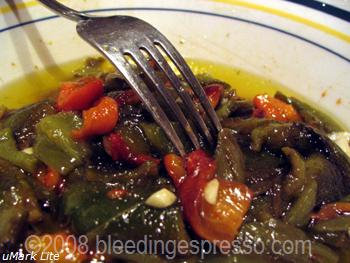 Peppers–as many as you like, of the variety you prefer
Enough good olive oil to cover them
Clove of garlic, chopped (depends on your taste how much you want to add–do experiment!)
Salt to taste
Wash and dry the peppers and then place them on the grill whole and intact.
In preparing the peppers, the most important thing to remember is to turn them so that all sides are blackened. Trust me, you want the sides BLACK as this makes peeling them a lot easier.
Here are the remnants of our last batch (with an unroasted pepper):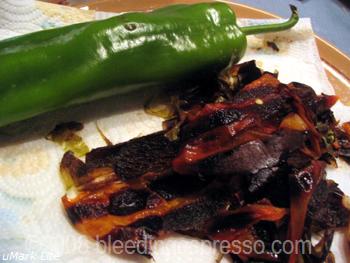 Once you take them off the grill and have given them a chance to cool off a bit, pull out the stems. Now peel the skin. P uses a small knife, but he uses a knife for everything (he *is* a southern Italian man). You can also do this with your bare hands of course.
Be sure to remove all the seeds, which you can do by squeezing the pepper from top to bottom between your index finger and thumb.
If there are any of the membranes left inside, scrape those out too.
Now you're ready to do whatever you like with them. For the preparation shown above, slice and place in bowl and then cover with olive oil. Add as much chopped garlic and salt as you like and let them marinate at least an hour before eating.
I know it's hard to wait, but you'll thank yourself later.
Buon appetito!
**If you haven't yet, remember to check out my welcome post and find out about how you can win a $30 Amazon.com gift certificate!**
—————
[tags]roasted peppers, roasted red peppers, peppers, cooking, what's cooking wednesday[/tags]
17 Beans of Wisdom to "what's cooking wednesday: roasted peppers with garlic & olive oil"
---